Re-energise.
Re-occupy.
Re-think.

Future-focused reoccupation of buildings, spaces & places.
From workplaces to hotels and retail spaces, many of us are looking at how we re-occupy buildings and gear up our spaces for social distancing. It's vital landlords and estate owners make changes that ensure both short-term re-invigoration and long-term commercial success.
Naturally the current priority is safety and reassurance, but this moment also presents a unique chance to transform spaces and places for the better. By investing in intelligent environments that teach us how they can be optimised, we have an unrivalled opportunity to create truly desirable destinations, homes, and workplaces like never before…
So, let's not step 'back' to normal, but rather move forward with a new focus.
Re-energise.
Back to business – re-energising your building quickly and safely.
The safe re-energisation of built assets that have been dormant for extended periods is vital to getting up and running in the short term. Current building design means most developments aren't usually suited to prolonged periods of closure, and some may not have been shut down in a pre-emptive manner.
Our comprehensive process checklist supports you in getting your building or development back up and operating safely. The key areas cover:
Air quality
Life safety systems
Security systems
Water quality
Control systems
Re-occupy.
Reacting to immediate change – re-focusing your operations on safety and security.
For the foreseeable future, all spaces will need to successfully accommodate reduced occupation, and new ways of travelling/interacting. This presents a number of opportunities to ensure that the building's operations work in harmony with such a difference in usage. Key aspects to consider include:
– Reviewing opportunities to run your mechanical air systems at increased ventilation rates to increase dilution.
– Modifying your security & access systems to accommodate re-organised access arrangements.
– Interrogating building automation systems to enhance building performance under renewed conditions.
– Considering changes to humidification plant.
– Reviewing filter cleaning and replacement regimes.
– Modifying vertical transportation systems to ease crowding associated with lifts.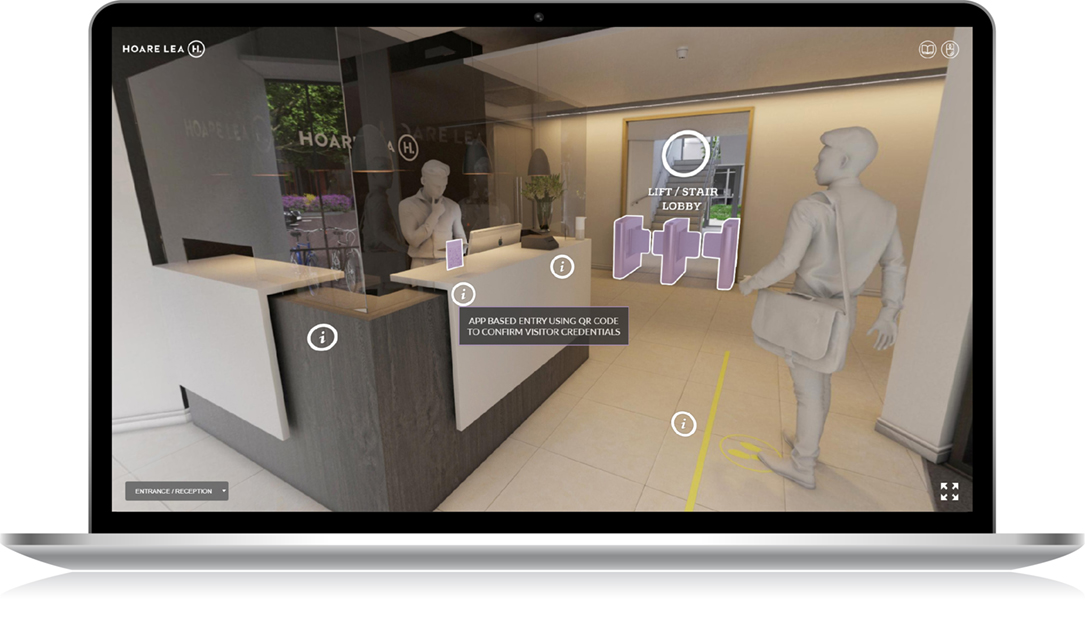 Explore what C19 measures mean in reality.
As contributors to the BCO's Thoughts on Office Design and Operation after COVID-19, our 360 interactive walk-through helps you understand the measures involved, how to effectively implement them, and what they'll look like in reality. Click here.
Re-think.
An opportunity to reset – re-thinking how you look to the future, for people and the planet.
Unlock value with data
The value of investing in occupancy sensing and data gathering for both individual buildings and full estates has never been higher. Those who already have it in place are at a great advantage when responding to the immediate demands, such as social distancing, air quality, and people-flow
measures. However, its current benefits are equally, if not more, matched by the long-term value of evidence-driven operation and optimisation. Data allows us to design a built environment that reveals and responds to the needs of our planet and people.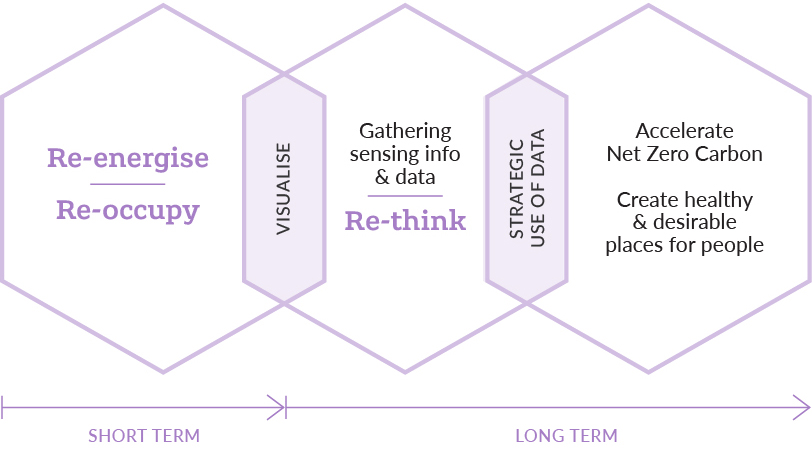 Planet: accelerate your carbon agenda
While some measures that help to prevent infection will increase carbon emissions in the short-term (such as increased ventilation and operation periods), there is a major long-term opportunity to accelerate net-zero-carbon ambitions. As cities look to 're-open' in a way that supports their 2030 or 2050 Net Zero aims, so too can businesses and landlords. Supported by data, it's a chance to re-look at:
– efficient building usage and operation
– how Blue Green infrastructure can support health, wellbeing and reduce carbon
– how biophilic design can increase productivity and creativity, while supporting non-mechanical cooling and better air quality
People: respond to human needs & desires
Ultimately, commercial success depends on how buildings and developments respond to the inevitable change in people's/tenants' expectations and desires. In the short-term, as restrictions are lifted and many begin in-office working, shopping, and travel – some will be craving a 'return to normality', others will be anxious, and many will have adapted to wellbeing, environmental, and cost benefits of digital interaction. Proactive reassurance and response to new people preferences will unlock a myriad of long-term commercial benefits: from enhanced health and wellbeing, to productivity and dwell times.
Scaling up
In the short-term, rethinking our buildings are priority, but the lessons learnt from transforming them for people and planet are lessons for our wider public realm and even cities themselves.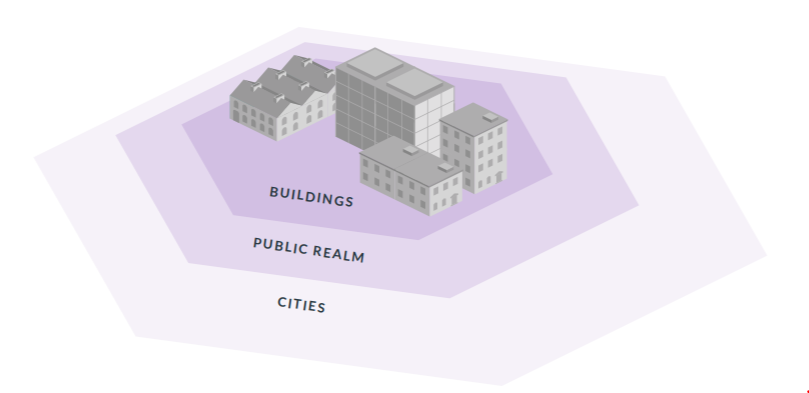 Technical excellence.
We are multidisciplinary experts providing clear and considered support to all our clients who are responding to these new demands. We are drawing on industry and Government guidance, along with
our vast experience of holistic building services, and provide you with the best future-focused advice possible.