Improving offices with air quality monitoring.

How we're leading the way for better workplace wellbeing.
Arguably the most prominent challenge to the workplace in the last 10 years has been about wellbeing. More and more, all parties – from developer and employer, to the workforce itself – are conscious of how the building they work in impacts their lives, productivity, and overall wellbeing.
Designing buildings that better serve the wellbeing of its users is an area we continue to research extensively, from our co-sponsored Wellness and Work report, to our London office's "Living Lab".
And why wouldn't we? Our latest research has shown that offices designed with user wellbeing in mind improve mental and physical health, productivity, happiness, and employer satisfaction.
Office headaches.
Air quality is often a topic people associate with cities, roadways, and transport. As such, attention has not yet swung towards the adverse effects bad air quality can have inside buildings themselves. Dust particulates can exacerbate existing respiratory conditions, chemicals can be left behind by everyday cleaning products… and the resulting effects can include drowsiness and headaches – directly impacting people's health and productivity.
The effects of poor air quality in the workplace can be startling.
Using our own offices as the initial test-bed for research, we have been actively undertaking air quality analysis. Our experts measured the temperature, humidity, and carbon dioxide in four of our offices, as well as the levels of dust particles and Volatile Organic Compounds (VOCs).
Instant feedback.
This monitoring has been incredibly eye-opening, not only highlighting the importance of good workspace air quality, but also demonstrating the power of intelligent buildings and a data-driven approach to building management.

One instance involved an unusual spike in CO2 in our Bristol office (shown above). Thanks to the air quality monitoring, our team in London was instantly alerted to the issue before anyone in the Bristol office could have discovered it. They flagged it to the local Bristol team, who discovered that a cable had been sheared by a panel door… and quickly fixed the issue. A great example of remote intelligence!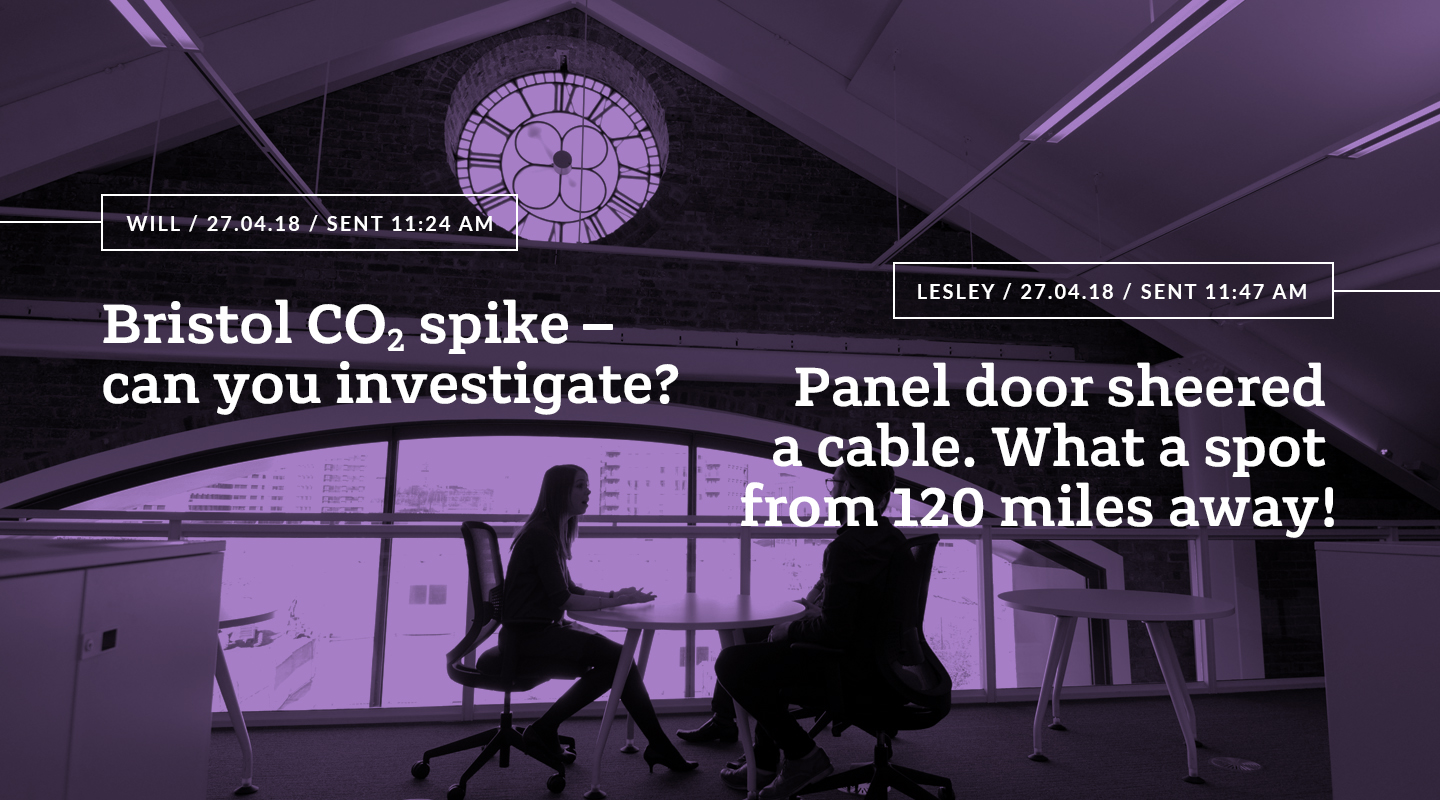 The ability to monitor our offices' air quality over time and location has allowed us to build a profile of each building, and provide an additional level of alert that can spot irregularities and inform future solutions.
A job worth doing.
We are now also working with select clients to monitor their spaces in action, using this data to inform our refurbishment/improvement designs.
These improvements aren't just economical – they have a direct impact on workers' physical health, reduce sick days, and increase wellbeing.
For further information on our workplace air quality monitoring capability, please contact our Air Quality & Sustainability teams.