Balancing collaboration and wellbeing: part 2.

Author:

Gael Vilatarsana, Associate Director
How can institutions encourage and facilitate collaboration amongst researchers and bring them back under one roof?
In part one, I discussed how collaborative work modes can be created in balance with wellbeing needs of end users.
Based on the principle explained above, building developers, architects and universities have promoted and tried to translate the 'all under one roof' principle in the design of their facilities.
One of the first to implement this idea was Steve Jobs who played a pivotal role in designing the office layout at Pixar HQ in California in the late 90s. He wanted to create a space that fostered creativity and collaboration among the employees and believed that an open, airy space would encourage people to talk and share ideas, which would lead to better teamwork and innovation.  He also wanted to ensure that the office design reflected Pixar's culture and values. For example, he included features such as a central atrium, a large kitchen, and a communal gathering area to encourage people to interact and socialize. In addition, he insisted on high-quality materials and finishes to create a visually appealing and inspiring environment.
Overall, Steve Jobs' vision for the office layout at Pixar helped to create a unique and vibrant workplace that continues to foster creativity, collaboration, and innovation to this day.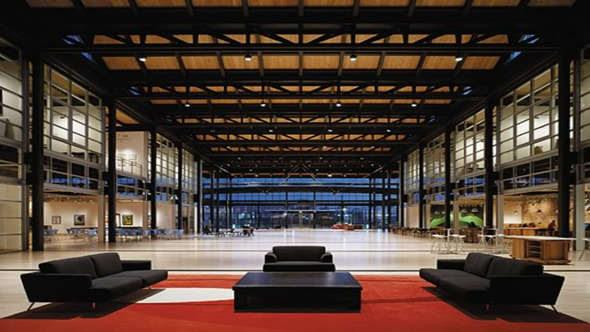 Pixar Headquarters, California.
Open plan layouts for buildings in the UK
Can similar approaches be effectively implemented in the UK? What layouts or design features can be implemented in smaller, denser science buildings? Are the design principles of spaces that foster creativity and collaboration among the employees compatible with wellbeing of its occupants? Is it achievable in buildings where floor spaces are at a premium?
The open-air design write up spaces in the Francis Crick Institute has shown to be problematic for some scientist's ability to concentrate on their work due to noise levels but the Crick Chief Operating officer stressed that the positive aspects of the open plan design, allowing greater collaboration, may well outweigh any drawbacks.
Research by leading international universities on the subject have highlighted that open plan layouts in offices and research spaces must be developed in balance with human-centric design to achieve overall positive outcome.
Research by the University of Queensland Business School has shown that
'Despite the adoption of collaborative buildings and office spaces to improve collaboration, the expected benefits of spatial interventions often fail to materialize'  Irving, G. L., Ayoko, O. B., & Ashkanasy, N. M. (2020). Collaboration, Physical Proximity and Serendipitous Encounters: Avoiding collaboration in a collaborative building. Organization Studies, 41(8), 1123–1146.
Another study by Elizabeth Sander, Assistant Professor of Organisational Behaviour at Bond Business School, Bond University published in The Conversation on July 18, 2018, has found that 'employees in open plan offices spend 73% less time in face-to-face interactions. Email and messaging use shot up by over 67%.'
Inter-disciplinary research is an established necessity for the advancement of science and layouts that promote serendipity encounters that can help promote creative collaboration, but bringing people under one roof in an open plan space is not the one-stop answer to this conundrum. Human centric and specifically good acoustics design, that will control ambient noise levels, sound reverberation, and create speech privacy where needed, if overlooked, can be counter effective.
How do we create spaces that will foster collaborative research, respect recent agile/hybrid methods of working whilst creating inviting working environments for employees?
Read the next Insights on this series, part 3, to unfold the secrets of collaborative and agile working environments with pleasant indoor spaces that bolster wellbeing.