Quiet please; ventilation & noise.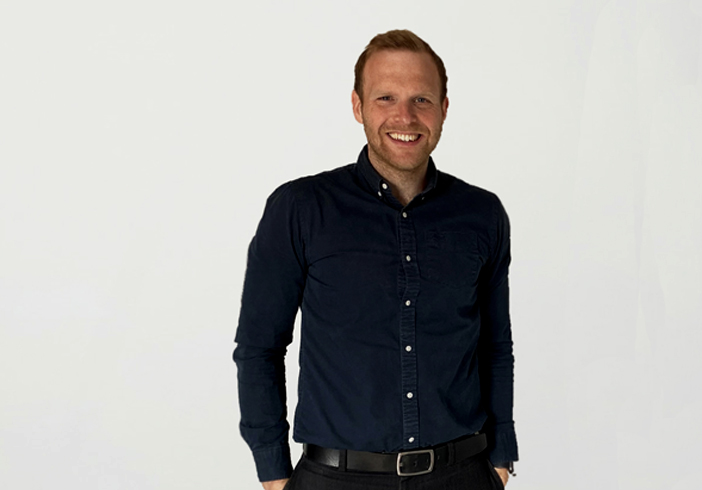 Author:

Tom Hills, Associate
Balancing school needs.
It is well known that the acoustic environment within the classroom can have a profound impact on how students concentrate and, in turn, how well they process and retain information. However, due to many project pressures and inherent constraints, the importance of good acoustic design can be overlooked with other factors taking priority.
One key consideration in the spotlight for schools is the need for good ventilation in the battle to mitigate the risk of infection, particularly as we seek to move out of the COVID-19 crisis.
In this Insight, I will highlight the importance of balance between the need for healthy rates of ventilation and the detrimental effects that noise can have on teaching and learning.
Can you hear me at the back?
Identifying poor acoustics is often easy as teachers have to strain their voice and may struggle to hold the class's attention. Beyond frustrating, the effects are known to be damaging. Research has shown that 50% of newly qualified teachers suffer voice loss, attributed in part to teaching spaces with poor acoustics. And, where the teacher cannot be clearly heard, the all-important learning experience is at risk of being impacted.
You can have the best teachers in the world, but if they cannot be heard or understood, then the learning experience for all will be dramatically impaired.
Quieter classrooms improve academic performance, reduce stress and encourage better behaviour. This can lead to a better school experience, heightened productivity and an increased sense of well-being for teachers and students alike.
Every school and classroom have a number of factors to consider when it comes to the acoustic design.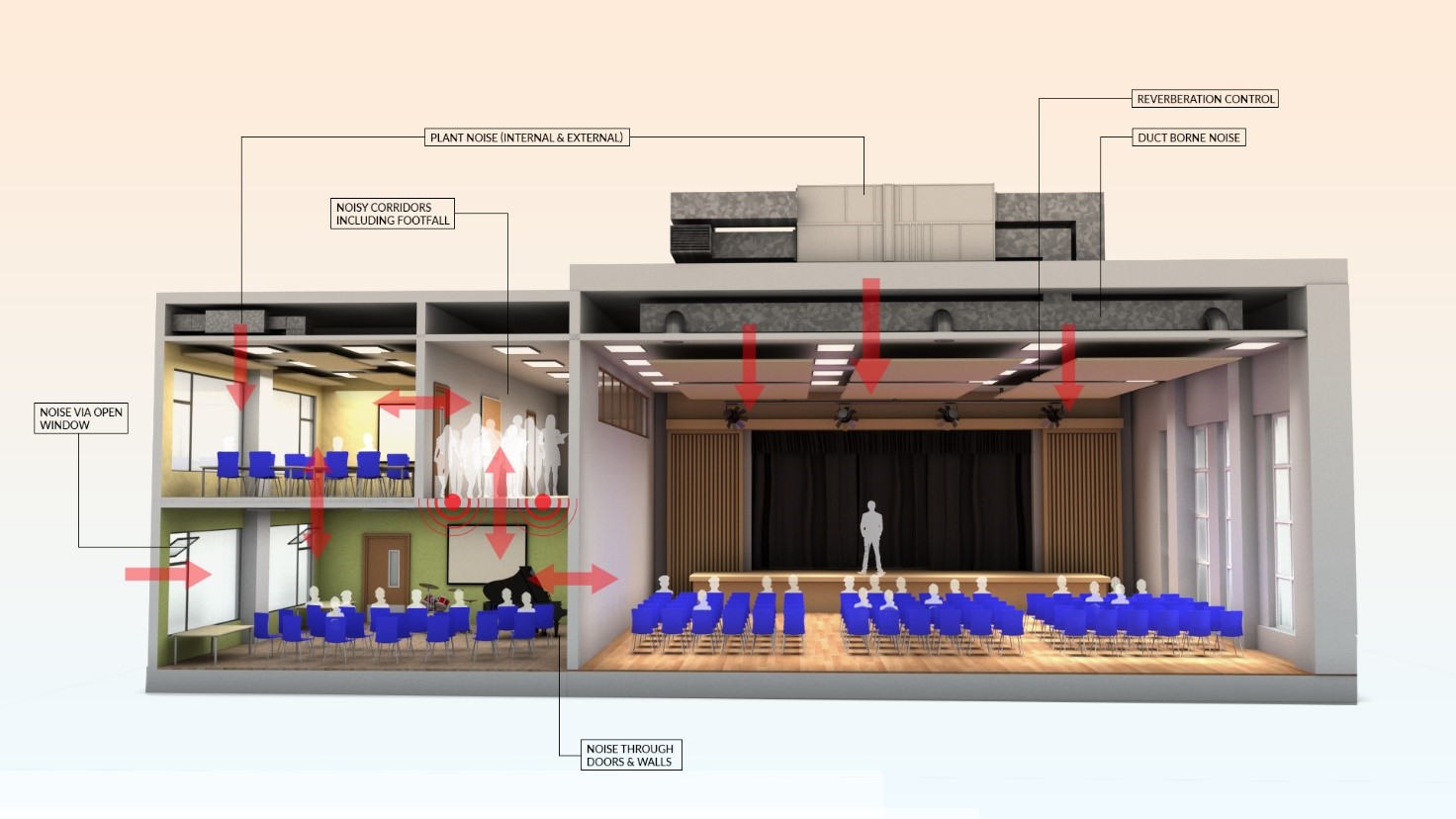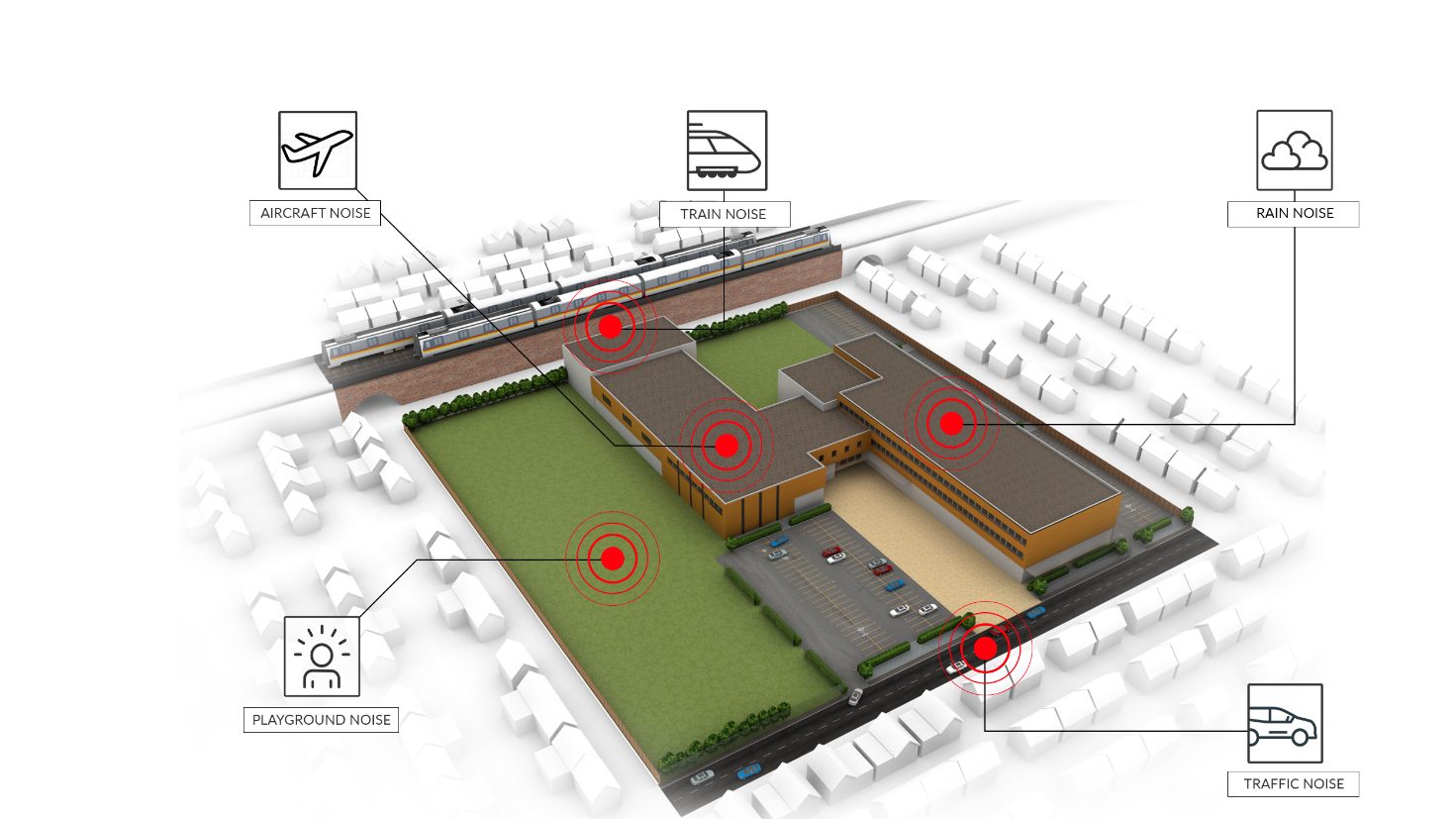 Ventilation & COVID-19.
The Health and Safety Executive (HSE) has published extensive guidance on Ventilation & Air conditioning during the COVID-19 pandemic. Part of the Government's strategy for dealing with the pandemic has been to ensure good ventilation within indoor spaces in order to minimise the spread of the virus. Our schools have some of the best-defined design guidance for ventilation and air quality compared to other public spaces.
But in practice, these ventilation rates are only achieved in newer school buildings and with many schools only having adequate ventilation when the windows are open. Not only has this led to staff and pupils wearing coats for lessons during the colder months, the risk of higher noise levels is raised due to increased levels of external noise.
For those schools with some level of mechanical ventilation, the alternative solution might be to increase the ventilation rates to each classroom. But with only a 25% increase in air flow, comes risk of a noticeable increase in noise levels of 5 dB.
Whilst a short-term increase in noise levels might be acceptable for the health and safety of our schools and community, we must recognise the longer-term effects of increased noise levels.
The opportunity.
High noise levels within schools and the classroom should be a thing of the past. Properly considered cost-effective solutions can be easily implemented to provide good ventilation within the classroom whilst ensuring that internal noise levels are maintained.
For example, passive ventilation via sound attenuated openings in the façade, the integration of acoustics vents in roof elements or the use of silencers to reduce noise created by mechanical systems.
Ultimately, noise must be considered as part of a holistic approach to ensure that schools provide a suitable environment for our young people to learn effectively and safely.