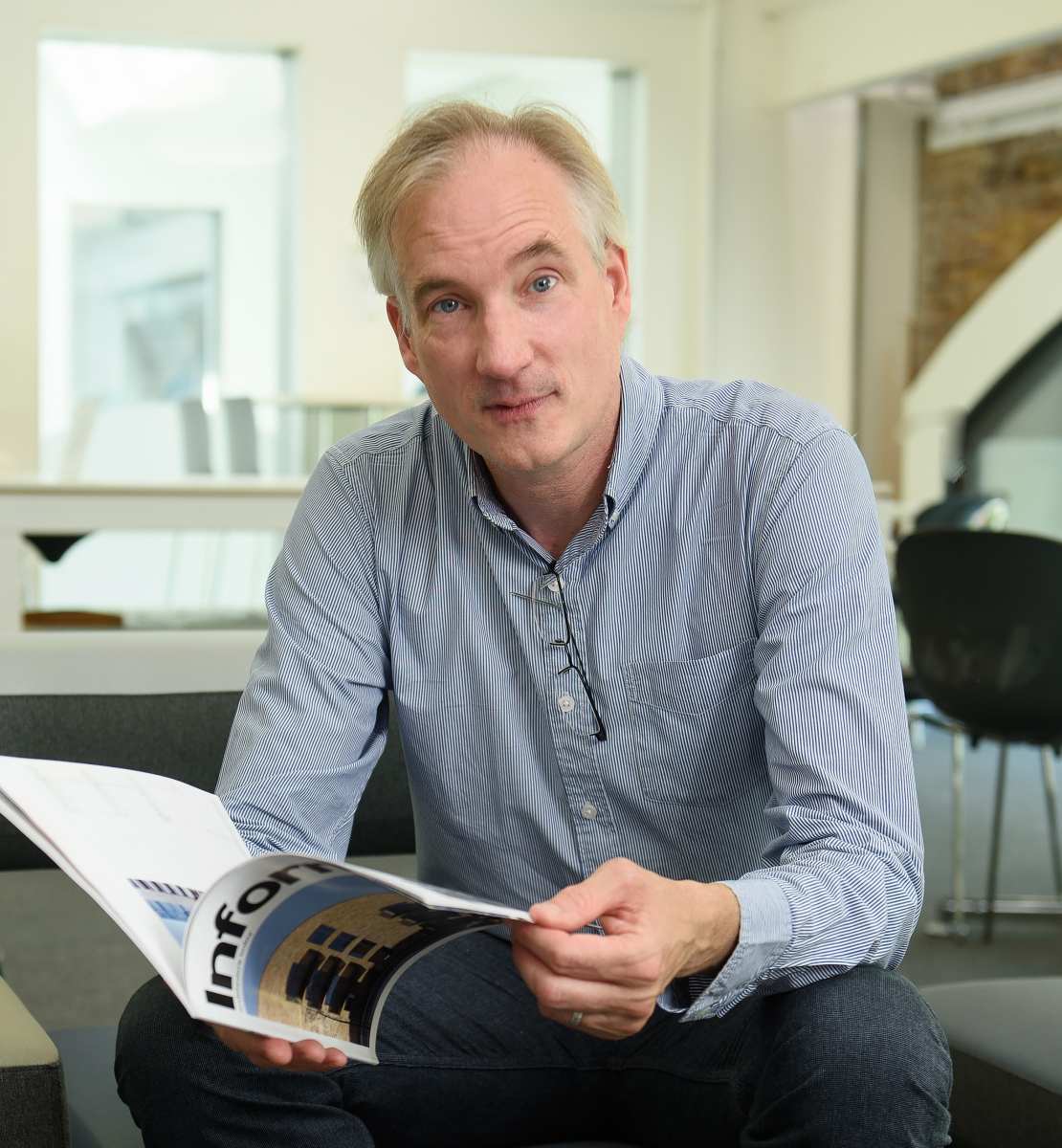 Author:

Dominic Meyrick, Partner
Lighting commissioning made simple.
Lighting control commissioning is a critical part of the lighting design process. It is also a point at which all of the effort, skill and commitment up to that point can often come undone, resulting in the delivery of what might – to the frustration of the lighting design team and the client – ultimately be an underwhelming installation.
Traditionally, the team may have spent months, or even years, agreeing the range of lighting product going into a project. The intricacies of each group of lights, their distribution and light pattern are known, and the subtle interplay of their interaction, both collectively and in variable intensities, was shown in drawings, sketches and renderings to the client body and it was this interplay that 'sold' the scheme ….and its cost!
You enter the space, a couple of days after the contractor has left the building and turn, with great expectations, to the lighting control panel ready to see the stunning interplay of light for your own eyes. But…
as you push each of the 4 buttons on the controls plate, there is no interplay. Only a slow decent of all luminaires, in all positions, sinking slowly from 100%, to 70%, to 50% to …off.
We realised that the current commissioning process had scope for improvement and began to look at how we could make the process easier, more efficient and more reliable. Too often at the end of a lighting design project, the commissioning of the lighting controls is done in a hurry and satisfies neither the lighting designer or, more importantly, the client/end user.
A new approach.
We spent some time exploring how we could improve the process, and after much hard work we have developed a tool – the LightSIM Controls App©. This is an intuitive, visual platform that removes the pain points of coordinating the lighting design intent with the commissioning process to give the result the client imagines and expects.
Our patent-pending, web-based tool enables the user to create and explore lighting scenes with photometrically accurate imagery on-screen, before instantly uploading these into the real-world environment.
We recently launched and demonstrated the LightSIM Controls App© to potential customers in a lighting showroom in Central London to much interest and positive feedback.
The LightSIM Controls App© has coding 'intelligence' behind its virtual buttons and sliders that enables it to communicate with lighting control devices in the real-world environment. Once a 'scene' has been created in the App's virtual environment, it can be sent to web-based lighting controls system and then imported directly into the enabled light fittings physically installed in the space. Although, initially, this was to allow stakeholders to be able to visually agree scenes months, or maybe years, before a building is complete it critically also allows easy, quick (5 mins!), reformatting of any lighting scenes by the user through the LightSIM Controls App© post occupancy whether that user is in the building or remote.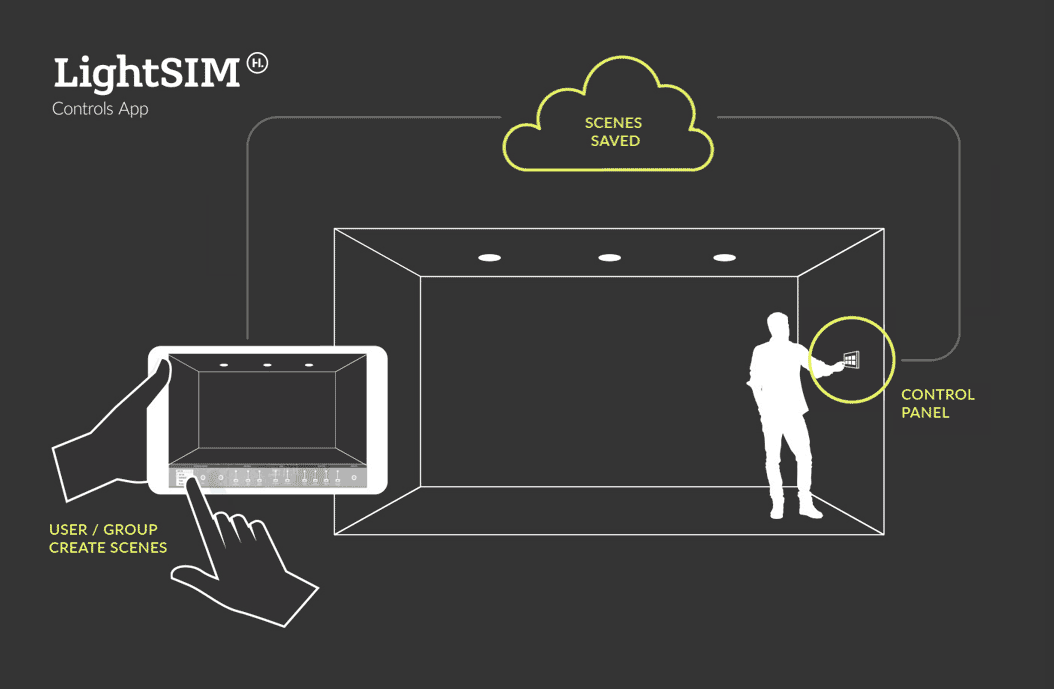 Our LightSIM Controls App© offers benefits over traditional commissioning.
– Buys time – Lighting scenes maybe created, picked and chosen ahead of time and saving time in building commissioning process.
– Reduces risk – Using vivid and accurate visual representations of lighting scenes before applying to physical control system, allows you to get things right first time on site.
– Gives choice – The intuitive user-friendly interface allows more impactful, client-centric, scenes to be created before a wire has even been run.
– Helps save the planet without reducing creativity – Energy usage for different lit impressions can be measured, compared and visualised for each scene possibility, allowing an informed choice.
– Reduced costs – Removes the need for repeat lighting commissioning visits later, but also gives predictive maintenance through remote monitoring, remote control of scene change requests and a reduction in disruption once the space is in use.
– Increased in life flexibility – The secure, cloud-based service allows data to be used across platforms and users.
So how does it work?
How could it work for you?
– Office: – Share the app with intended end-users, to make decisions on lighting scene options before the fit-out process even begins.
– Healthcare – In private healthcare, patients are given the opportunity to create their own lighting scenes as they arrive for a stay in hospital.
– Hotels – Guests can create a bespoke lighting scene upon check-in and this will be activated as they enter the room. Also, the lighting can be easily adapted to reflect a consistent brand across hotel chains, or specially programmed for events such as weddings.
– Retail – Create bespoke scenes for seasonal changes, special events or promotions, creating consistency across a chain of stores/restaurants through centralised remote monitoring and control.
– Heritage – Allow stakeholders, to explore options and make decisions on lighting scenes for sensitive building refurb projects at protected/listed sites.
Get in touch.
Let us know if you would be interested in experiencing the LightSIM Controls App©.
Speak to Karam Bhamra on LinkedIn
Or, find out more by contacting us here.