Paying it forward.
Emma joined our Bristol Office as a Senior Sustainability Consultant in July 2018, having previously worked in our London office as a graduate from 2013 to 2015. She takes a hands-on approach to helping the next generation of students and has recently joined a new Industry Advisory Group set up by the University of Exeter.
I've was drawn to sustainable design because…
after finishing my degree in Renewable Energy at the University of Exeter I interned for the carbon management team at the university's Cornwall campus. The Environment and Sustainability Institute (ESI) building at just opened which, at the time, was the highest scoring BREEAM-certified building in the UK. Unfortunately, I got to witness how over-specifying a building can result in it being inefficient to run and unenjoyable to use as an occupant. I had always been interested in buildings and the environment so this experience heavily influenced my desire to become a consultant to try to prevent it happening again!
Now, when I work on a BREEAM project, I refer to that building as lesson of style over substance and recognising what will actually bring value to a development.
I love that my role enables me to meet and work with people from a range of disciplines and perspectives. The challenge is always finding the common ground so sustainability can be achieved.
When I was a student…
I didn't know Sustainability Consultant was even a job! As such, I was drawn to becoming an Exeter Alumni career mentor. The mentorship scheme creates links between students and professionals in fields they are interested in joining after graduation. I'm aware of the lack of information on options that was available to me at the time, and I want to be able to play my part in helping to guide today's students.
My mentoring has led to…
being asked by the University of Exeter to sit on its Industry Advisory Group (IAG) for the Green Consultants programme. It's an initiative that helps to coordinate paid work-experience for current students wanting to get into environmentally focussed careers and has been running for five years. The university has recognised that in order for the programme to remain valuable to the students, there needs to be an understanding of what potential employers are looking for, hence the IAG.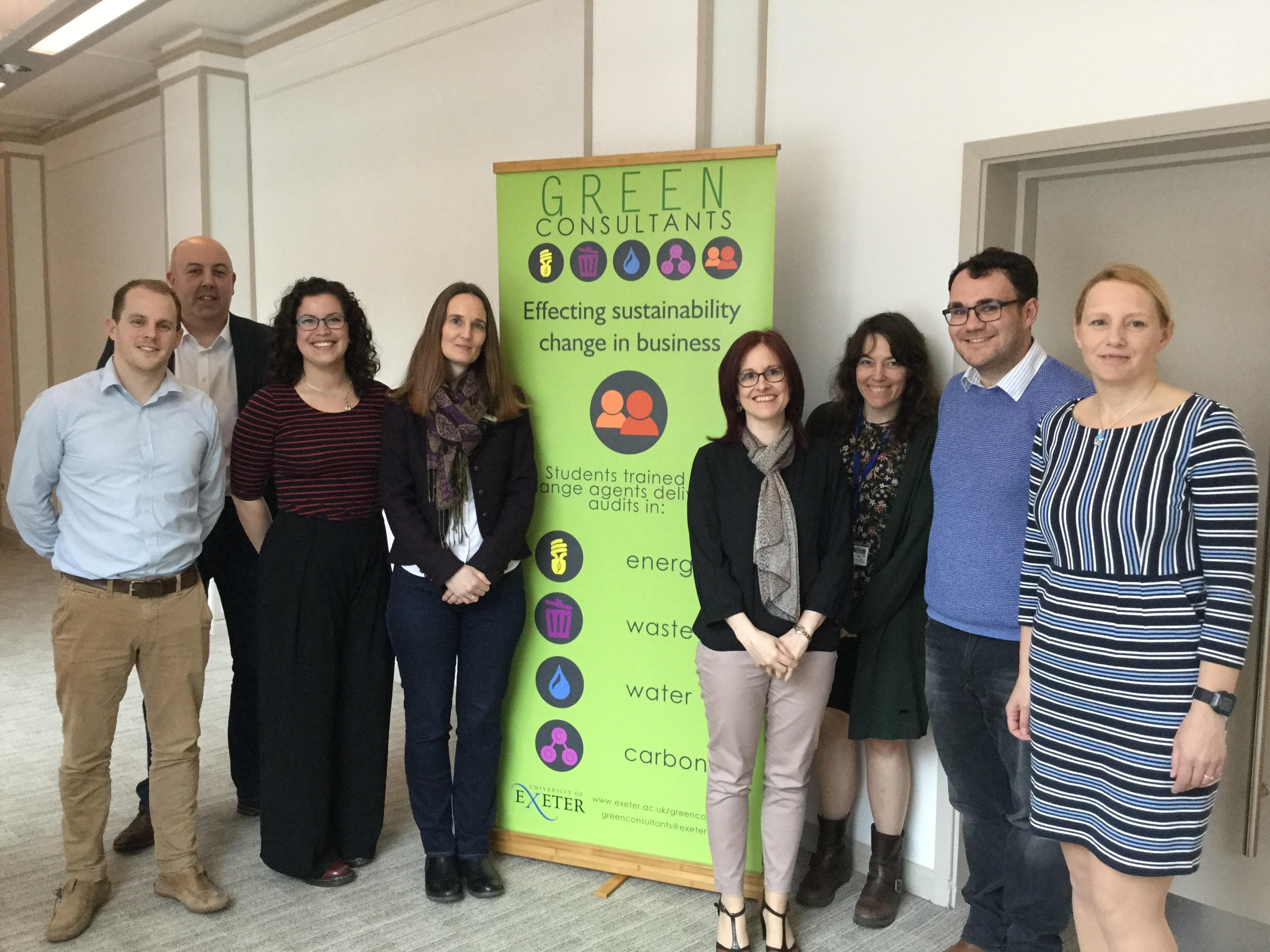 Last Friday (1 March) I attended the first IAG meeting at the Streatham Campus in Exeter. The group was a mix of University staff and industry professionals. We discussed the skillsets need to develop for a career in sustainability, as well as industry engagement with the programme.
Employers' greatest need is for young people to develop consultancy skills – such as being able to write documents in an accessible language and format and finding the value the client will relate to. These are not things that are often taught at university level.
We also discussed 'Dissertations for Good', which is an initiative managed by NUS. The aim is to link students with organisations in order to carry out a bespoke piece of research relating to sustainability; it can then be submitted by the student as part of their degree, as well as providing data for the organisation. The University of Exeter has started to promote it this academic year and needs project ideas! So, if you or your team have an interest or topic that needs delving into but there's not the available research, get in touch!