Our people in the Middle East.
October 2018 will mark a decade of our firm working in the Middle East. From now until then, we'll be celebrating this milestone with a range of unique events and anniversary activities.
This is the third in a 10-part series of people pieces, in which Hoare Lea employees and partners share their personal stories of working in the region.
Name: Federico Condecido
Title: Senior Electrical Engineer
Status: Based in the Abu Dhabi office since 2012, working in the Middle East since 1991
What made you join Hoare Lea?
I previously worked for Waterman International here in the UAE. Once I decided to leave I was referred to Hoare Lea by a recruitment company, and was interviewed by Andrew Morris and Ian Gow. It was that meeting that made me know I wanted to be part of the Hoare Lea team here in Abu Dhabi. I started on 17 June 2012 and have never looked back!
What's been your proudest moment so far?
That was definitely the completion of Al Ain Stadium, now known as Hazza Bin Zayed Stadium. It was one of the biggest projects our office had done and the first one I was involved in. It was great to be able to collaborate with our Cardiff team on the MEP design, namely Robin Griffiths, Simon Pimley, and Tom deBoeck.
Finishing any project is always a proud moment, and so far I've worked on everything from the sustainable Masdar HQ, Abu Dhabi Cruise Terminal, and Zayed University, to the Doha Green Line Metro, Etihad MTB Lounge, Shams Marina and the ongoing Expo 2020 project.
I consider my colleagues my family here in the UAE. Through thick and thin you can rely on them.
What would you say to someone considering a secondment or move to one of our Middle East offices?
I'd say do it now! You will not be disappointed. I love the environment of our Abu Dhabi office – everyone is so cooperative and supportive. Personally, my career is progressing well here, and I'm supported by my line manager Matthew Johnstone. It'd be wonderful to take all the skills and knowledge that I gain on projects and apply them to the next project, which at the moment is the very exciting Expo 2020 project.
Do you have a favourite memory or experience you'd like to share?
Every step of my life and every project that I got involved with is always a fond memory and experience that I will treasure. However, one that stands out for me is when I worked in Libya on the Great Manmade River Project, working with different nationalities such as British (Sir Alexander Gibbs & Partners), Koreans (Dong Ah Consortium) and Libyans (Western Jamahiriya Authorities). Seeing the water flowing within pre-stressed concrete cylinder pipes from Benghazi to Tripoli (2,800km) via well field pumping stations and big water reservoir was so fulfilling.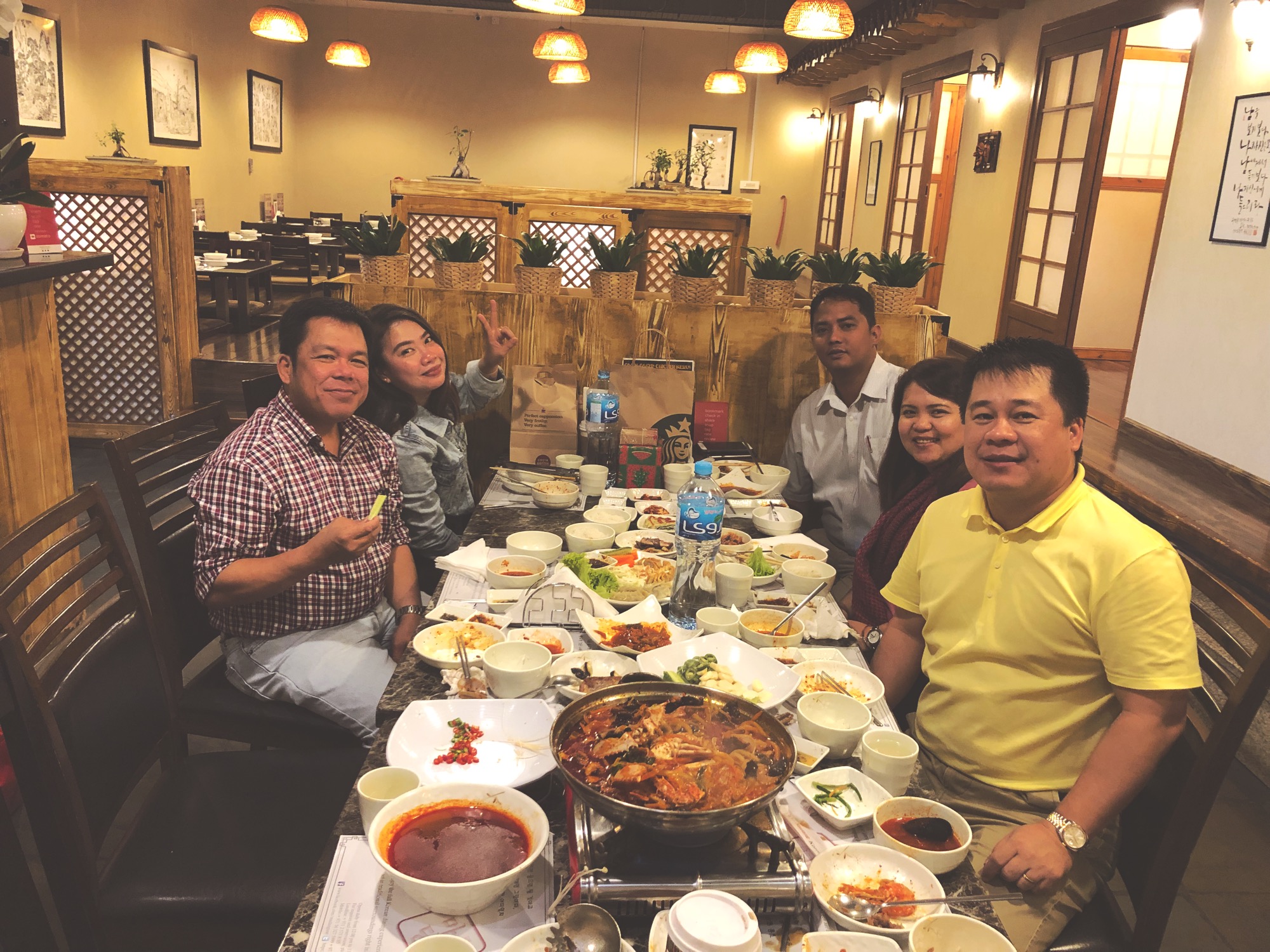 (from left to right) Rico, Maris, Randy, Andrea and Marjo.