Airtight solutions: our future-focused fumigation whitepaper.

Author:

Andrew Somerville, Director - S&R
Our easy-to-grasp guidance on this technical topic.
Click below to view the full whitepaper: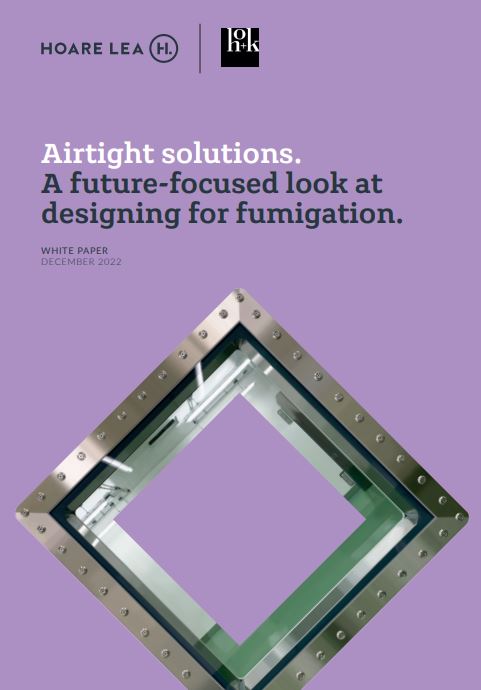 Designing spaces that are subject to fumigation is highly complex, but there are broad principles and processes that can be followed.
Myself and Shem Sacewicz (HOK Architects) were keen to create a clear and concise whitepaper that could provide our industry with the best practice we've garnered over our decades of experience.
It's all about airtightness
Fumigating a room can be extremely dangerous and needs to be carefully considered and managed. It's therefore vital for Science & Research designers to understand the process of pre-fumigation, fumigation, and post fumigation, and to be involved in the risk assessment.
Airtightness prevents fumigant release, maintains the required fumigant concentration and  prevents the escape of biological agents.
Everything from airtightness of room envelope construction, material compatibility, containment barrier, and the gated space and adjoining areas need to be considered throughout the fumigation cycle.
Ultimately, the risk comes from vulnerability of the containment barrier, which typically occurs at junctions of dissimilar materials, services penetrations or where the barrier fails or has been damaged. All these conditions must be carefully detailed, and some basic principles apply to how to form these junctions. The containment barrier needs to fully integrate with any item that penetrates through it such as doors, windows, lights, pipes, cables, ducts, to provide the seal. These penetration details need to enable a robust, reliable, and cleanable solution.
Our whitepaper draws attention to the need to better understand the fumigation process and the implication it has on room sealability. Retrofitting or considering sealability late in a design can be very expensive, sometimes impractical and can be dangerous, even life threatening. In contrast, considering the sealability requirements early in the design process will help achieve a cost-effective safe result…