Tackling 2022: highlights from Reuters NEXT.

"It takes a long time for the ship to turn, even after you've turned the wheel."
We share insights from John Kerry and Jacinda Arden after a period of post-COP26 reflection and solution-focused discussion with the world's best forward-thinkers.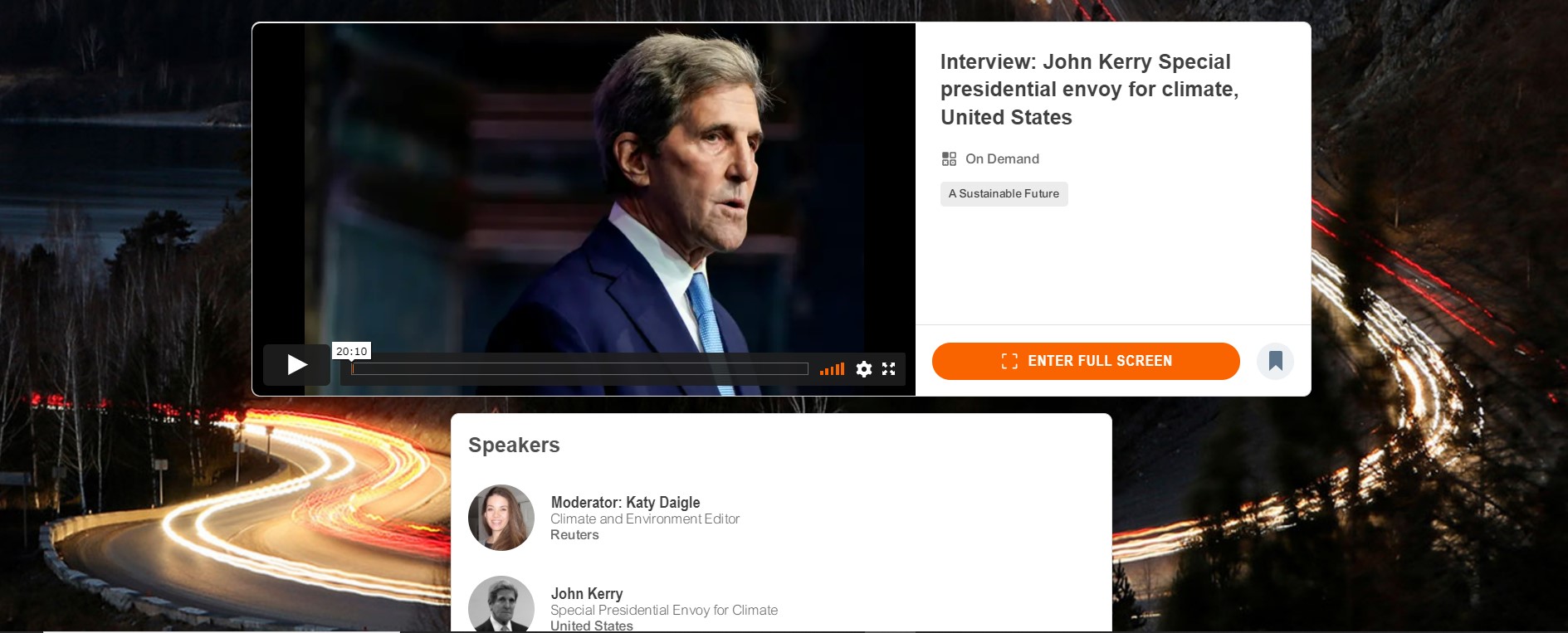 At the beginning of December, ahead of what will be a defining new year, we attended global virtual conference Reuters NEXT, which brought together leading figures to inspire, drive action and accelerate a new approach to the challenges we face in 2022.
The last year two years have transformed the way in which we understand business, markets, society and the environment. Today, new thinking is required.
As no country, company or community can tackle this future alone, thinkers and doers must come together to share ideas, collaborate and act to build a better world.
Speakers included the likes of US infection disease expert Dr Anthony Fauci, talking vaccine progress; the CEO of South East Asian super-app Grab, Anthony Tan, on upending the established way of moving, working, communicating, transacting and protecting ourselves with technological and scientific innovations; and NATO Secretary General Jens Stoltenberg on leading the way in challenging times. We were privy to discussion around everything from the role of copper in a sustainable future, to equity and innovation in healthcare; commuting by air à la the Sixties' 2062-set cartoon show The Jetsons; and music streaming models of the future, with Chic composer, arranger, producer and guitarist Nile Rogers.
What US special presidential envoy for climate John Kerry had to say to Reuters' environment editor Katy Daigle, including his positive take on COP26, struck a particular chord. Acknowledging that international ambition is still not what it needs to be in order to limit warming to 1.5 degrees, he recognised the reality of the situation worldwide.
Joining hands
"It takes a long time for the ship to turn even after you've turned the wheel, and that's where we are," he said. "We have to be doing everything faster. The good thing about Glasgow? We came out of there with about 70 per cent of the planet's GDP committed to keeping 1.5 degrees alive, with real plans on the table that they will follow to get there.
"But that also means you have 30 per cent that is not there. China, India, Russia, Brazil, Indonesia, South Africa; there's a group of countries that are going to have to step up, and we have to help them. The challenge now is to implement all the agreements reached in Glasgow, and there were many things reached that can advance the process."
Bringing finance, creativity and tech to the table to accelerate said process – an aggregating exercise to achieve a common goal – is what's required, according to Kerry. In fairness, he said, to chief challenger of decarbonising pledges, India – whose economy is built on coal – they were helpful in a number of other ways in Glasgow. They signed on to phase down, along with China. "And you have to phase down to phase out," said Kerry.
Ours is not to point fingers but join hands and focus on the advancement coming from technologies that are not yet at scale, such as green hydrogen and small-scale, safe and contained nuclear.
Nowhere to hide
Speaking of the multi-trillion pound sustainability industry: "It's not the most frightening playing field to be trying to find solutions in now. The demand is there. People are chasing the new fuels, construction materials, the containment or capture of carbon in the industrial process. There is green steel and cement now being produced. This transition is well underway.
"I'm asked what happens if the US elects a politician who tries to reverse this.
No politician anywhere in the world can reverse what is happening now. The private sector understands it and we're now seeing shareholder debates about responsibility, and financial disclosure.
"New satellite technology, that provides transparency and accountability on what nations and companies are doing, can track the entire supply chain of global international corporate entity, so there's no hiding anymore. As a result, there's going to be a very different level of investment as well as outcomes."
The key message? The future doesn't have to be doom-laden.
We can have a better quality of life; managing energy better, cleaning up pollution that's killing people.
"We will be living in a safer, healthier, far more secure world. If we don't do those things, the collapse of agriculture, lack of water, droughts, movement of whole populations will be hugely destabilising. We still have an opportunity to avoid those consequences."
Leading the way in 2022
New Zealand Prime Minister Jacinda Ardern, speaking with Reuters editor Kevin Krolicki, expressed a keen awareness of the expectations of the next generation, for us to address climate change comprehensively and without postponement, regardless of whatever other crises are taking place.
She also expressed hope for more adequate health system infrastructure, domestically and internationally, to ensure the world is more prepared to withstand any future pandemics and ensure widened and equitable dispersal of vaccines. With that same pre-emptive focus, she spoke of including greater ventilation considerations in New Zealand's built environments, and the action being taken to reduce friction at the country's borders, as it so heavily relies on its export industry. The importance of integrated information sharing from the well-networked science community, too, in allowing for a more agile governmental response to potential health crises, has also been driven home.
Later she touched on gender pay gap progress and the need to look positively at the contribution that will come from a shift in attitude and discourse in this area: to resolving the inequalities built into all our economies, rather than the cost of just 'fixing the problem'.
Moving on to cover the psychological impact of the pandemic and how it's changing people's views on investment, conversation focused on the propensity to see property as secure area to invest, and the need to remedy New Zealand's housing crisis by responding to the rapid growth in property prices, increasing supply and reducing barriers. Now, for Ardern's government, it's about making sure supply chain issues don't impact on construction, supporting the transport of freight through air connectivity to buffer the sharper impacts of Covid, and translating that into affordable housing in most densely populated areas in order to start to see a turnaround.