Are you feeling curious? Exploare issue 7.

Exploare issue 7.
Discover the autumn edition of Exploare magazine.
Read now: the seventh Exploare is here!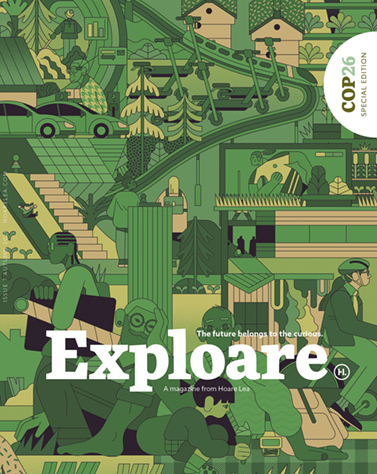 This issue coincides with the worldwide talking point that is COP26 – but what you'll find within these pages is more than just hot air around the topic of global warming.
It's no longer the why; it's the how, now. The finance world is starting to spearhead the pressure for transformation, so this issue our ESG Consultant Robert Winch has the lowdown on climate-led investment risk and opportunity, and we also broker a chat between the banking and property worlds with a view to breaking down the language barrier.
Centre for Net Zero CEO Lucy Yu is talking data-driven forward steps, and we take an in-depth look at what sustainable design will mean in the decades to come.
To share our experience of making climate-conscious design a reality, we celebrate a blueprint for better healthcare estates in innovative Whipp's Cross; Wales' first energy-positive housing project; and the masterclass in making wood work that is Timber Square's ground-breaking workspace development.
If you haven't been lucky enough to get your hands on one of our sustainably printed copies, then this digital version is here for you to delve into at your leisure.
We always welcome feedback, so contact hello@hoarelea.com if you'd like to share your thoughts.