'Climate risk is investment risk': part 2.

Author:

Robert Winch, ESG Consultant
Quantifying nature's benefit to financial assets.
This is an ongoing insight series that will look at the financial opportunities of nature-based solutions. See part 1 here.
Nature's functional, economic and social value has been long under-recognised due to the challenges in quantifying its benefits, subsequently enabling traditional grey infrastructure to become the default for the industry. However, the EU's Urban Innovation Actions (UIA) project IGNITION condensed the findings of more than 1,000 scientific papers to determine just this.
The research found that Sustainable Urban Drainage (SuDS), which are widely used to manage rainfall, can retain 60-73% of rainwater run-off, helping reduce flood risks. Perhaps a more compelling argument in favour of SuDS is the research carried out by Defra, which found they can reduce construction costs by up to 30% compared to traditional drainage systems.
Nature-based solutions can also provide a significant level of cooling both within and outside of buildings, for instance street trees reduce air temperature by 3oC. These measures can help mitigate the Urban Heat Island and create temperatures comfortable to live and work in.
Thermal regulation measures could help reduce the number of heat related deaths, a figure which the IPCC estimates could reach 7,000 annually by 2050 as summer temperatures continue to rise.
The graphic below shows the headline findings of two of the five types of nature-based solutions reviewed in the IGNITION Projects research: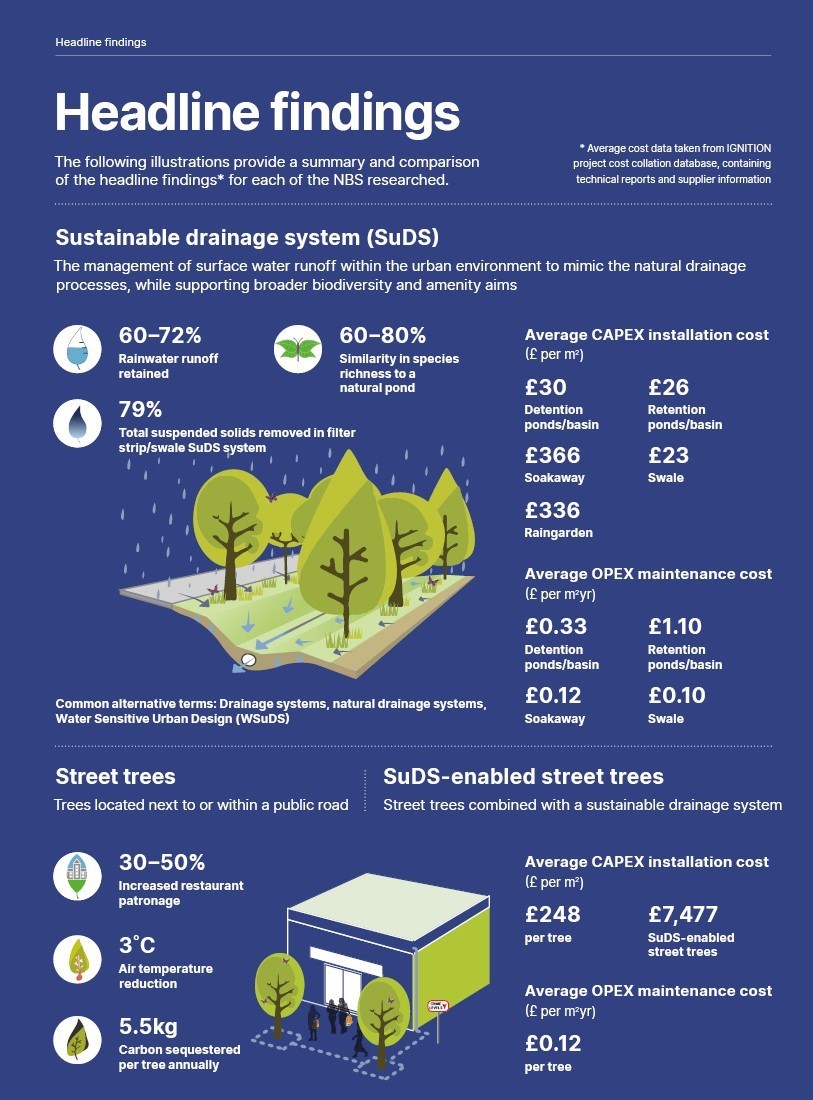 Enabling nature-based solutions.
The UKGBC has encapsulated an ambition for the industry that combines aspirations around climate-resilient assets and utilising nature-based solutions through the following statement:
"By 2030, all buildings and infrastructure will, throughout their lifetime, be climate resilient and maximise environmental net gains, through the prioritisation of nature-based solutions"
In April this year the UKGBC launched a set of six guiding principles to assist developers, owners, operators and occupiers of buildings and infrastructure to work towards this target by integrating nature-based solutions into the design, construction and operation of real assets. Each principle provides supporting methodology, bringing together a combination of industry best practice, resources and initiatives.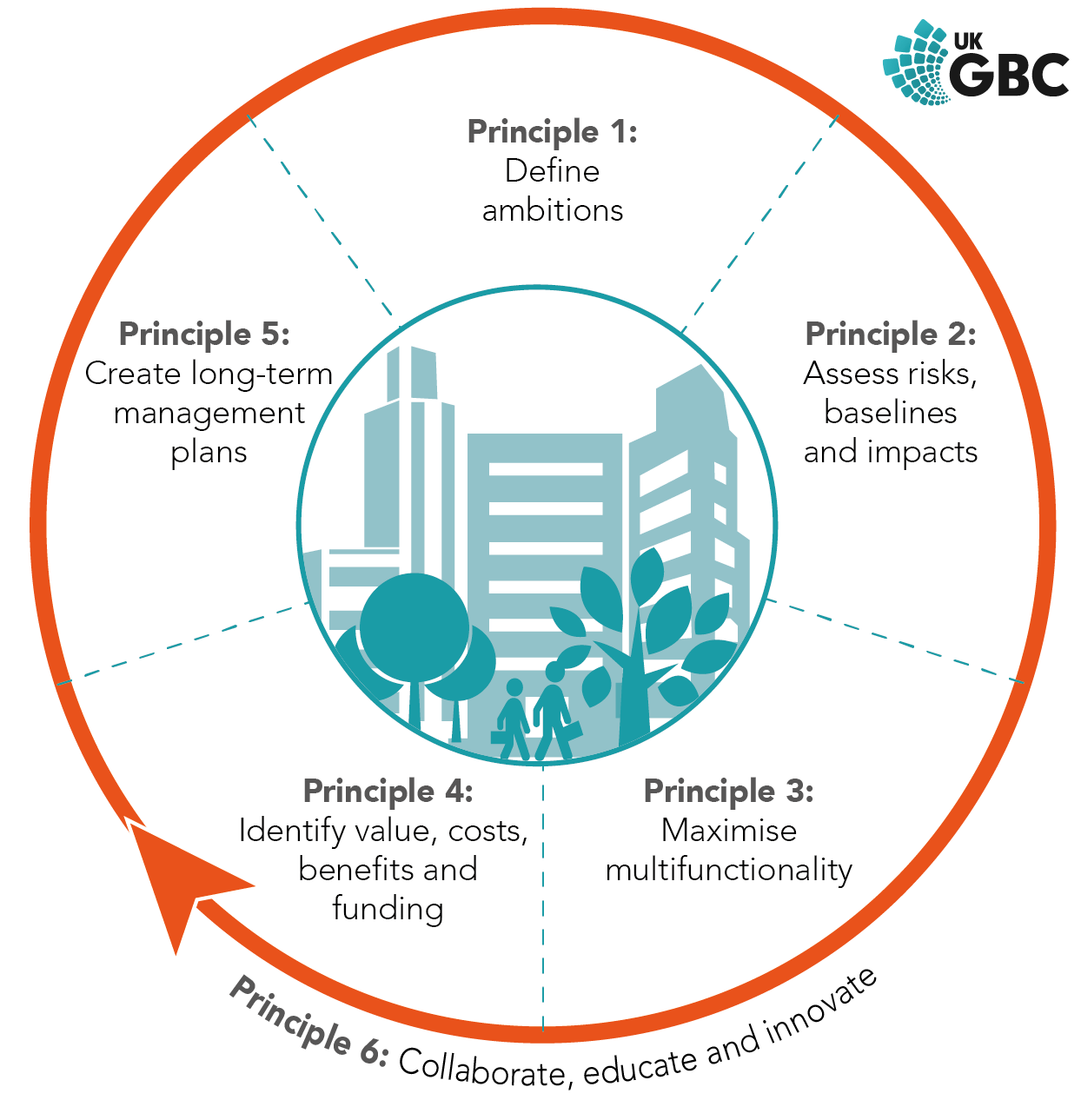 Meanwhile, Government regulation will further stimulate the built environment industry to create more nature. The impending update to the Environment Bill will set out a legal requirement for new developments to achieve and retain a 10% biodiversity net gain for 30 years. This legal requirement can be met through the creation of multifunctional nature-based solutions, which will also deliver assets aligned with investor's ESG priorities.
Creating meaningful change.
The Government-imposed global lockdown measures driven by the COVID-19 pandemic put the spotlight on the social disparity in access to green space. Present and future homeowners, as well as organisations, are reassessing where they live and operate, considering the social aspects of buildings and the interactions people have with space.
Putting humanity on pause has demonstrated that when nature has the space it can regenerate.
The reduced noise pollution allowed animals to better communicate in areas with busy anthropogenic soundscapes and were able to return to more effective hunting and mating behaviours.
Globally, animals have been exploring our quieter urban areas; deer have been seen grazing at Washington homes near to the White House, peacocks have wandered the streets of Bangor in Wales, and wild boar strutted through the streets of Barcelona.
Healthy ecosystems can be created through the provision of interconnected spaces across urban landscapes: strategic landscaping can increase species' resilience to factors like disease, climate change and invasive species. Natural habitats are commonly fragmented or poorly connected, typically resulting in small inbreeding populations that become increasingly vulnerable. Nature Recovery Networks are a concept developed by the Wildlife Trust that seeks to reconnect these isolated habitats through urban greening. The government is now piloting Local Nature Recovery Strategies to map areas where nature can be restored.
Nature's value is amplified when it flourishes and, ultimately, strengthens our ability to depend on natural systems for food security, water management, air quality and temperature regulation.