Fulfilling consumer demand.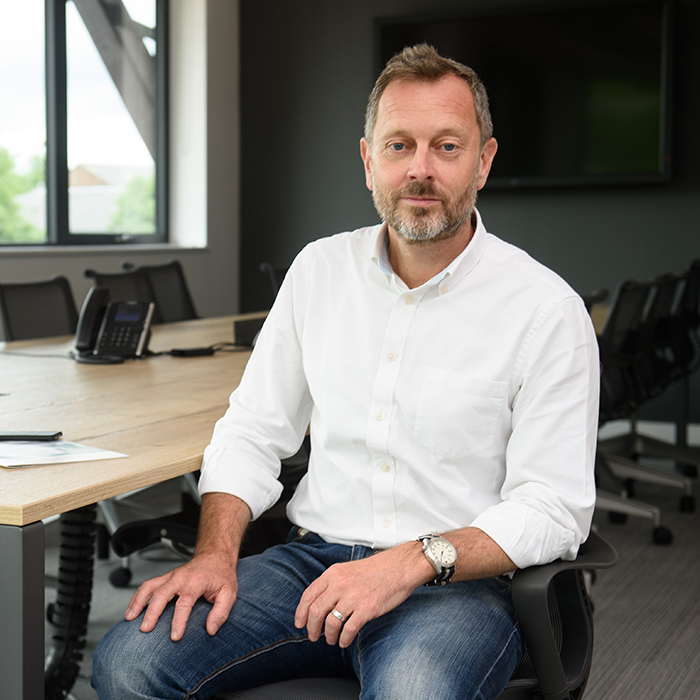 Author:

Phil Grew, Partner
Developing the retail backbone.
They may not have the glamour of shiny stores, nor the pull of people-centric places, but distribution hubs are to become an integral part of the retail revival story; the backbone to a thriving, service-led sector.…
The impact of clicks on bricks retail has been unprecedented. To varying degrees, the sector as a whole is in an extended period of realignment. While some retailers are struggling to sustain themselves in this multi-platform, omni-channel world, others are thriving.
The current retail frontrunners understand that, while people continue to enjoy and demand an engaging physical shopping experience that delivers at an emotional and social level, consumers also want to be able to shop in ways they choose. Importantly, retailers want to service consumers in the ways that suit them, too.
In this insight I discuss how the demand for seamless multi-channel retailing is driving a demand for the best connected distribution network possible.
In the coming years, the brands that will not just survive but dominate the market will be those that can deliver a truly flawless connected experience.
In my previous insight I discussed the importance of quality, bespoke placemaking in leading the resurgence of physical retailing as consumers seek to reengage with the physical store, but its important to acknowledge that the success of any resurgence in retail will require the best possible integration of all consumer platforms, to enable the seamless experience consumers expect.
This integration will continue to drive the demand for super-efficient distribution capabilities, extended to strategic locations to support multi-channel retailing.  This creates a tremendous opportunity for alternative uses of our town centre building stock through some clever repurposing of existing assets.
Distribution boom.
At the centre of this multi-platform retail future is a demand for exceptionally well located, consolidated distribution hubs. For retailers and customers alike, they're absolutely integral to the management and movement of products across all sales and return platforms. They need to serve multiple retailers and manage international, national and (most importantly for customers) the last-mile logistics.
Efficiency, proximity and connectivity are critical.
Super efficient distribution hubs are arguably becoming the heart of the complete retail ecosystem.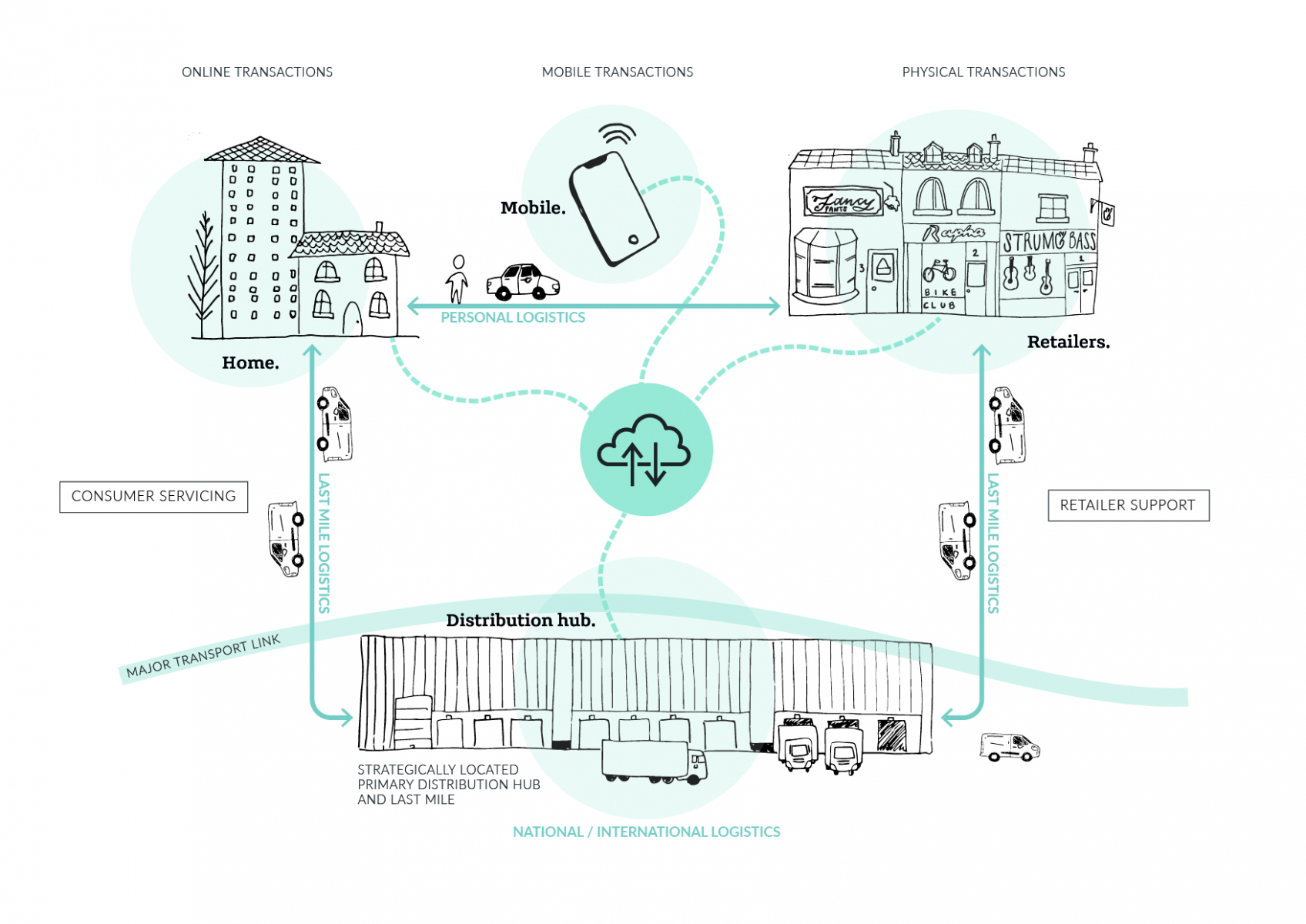 The demand for these operations is already here. In fact, by the end of this year it's predicted that retailer and distributor requirements for logistics warehouses will exceed the country's available stock.
"More than 18 million square foot of new warehouse space is needed in the UK to meet soaring demand for online retail, parcel delivery and logistics companies."
Source: Addleshaw Goddard
"A significant and unprecedented increase in construction will be required in the next few years to ensure internet retailers are able to continue to fulfil their customer orders."
Source: Velta International Freight Management
The opportunity: last-mile logistics handling.
So, the out-of-town opportunity to support the fulfilment-led generation is clear, but what of the in-town opportunity? The ability to create new-build hubs is juxtaposed with very real opportunities for repurposing our existing retail spaces. The demand will come for spaces with good vehicular access; spaces with ample storage facilities; spaces located in prime urban districts; and places that can accommodate multiple last-mile delivery vehicles.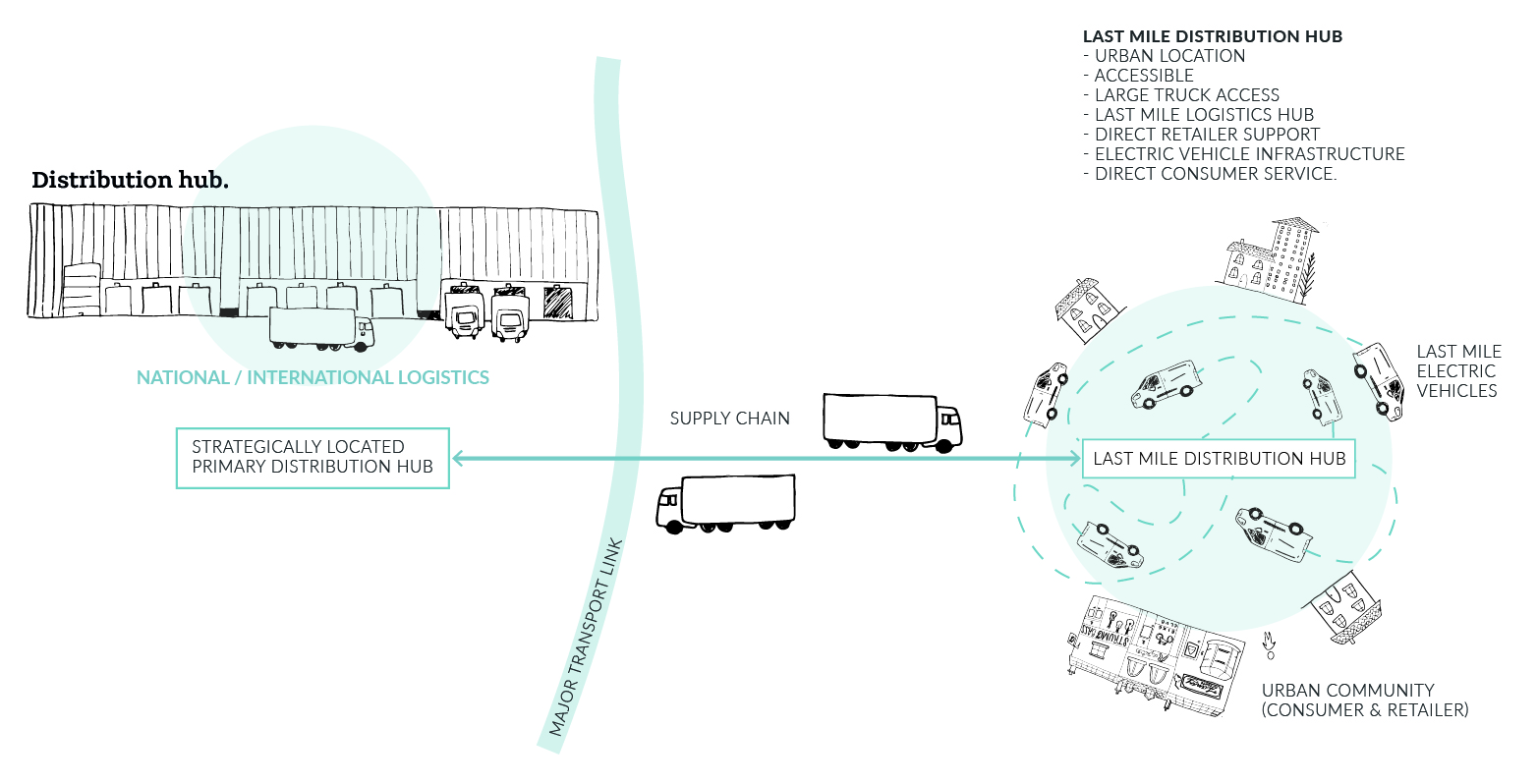 It's clear that our existing shopping centres present precisely these opportunities – the chance for third-party distributors to improve their last-mile logistics; to be supremely responsive to retailer and consumer demand, supporting the retail ecosystem; and, ultimately, to be part of the revival story of our retail centres and places.