Building Performance Champion 2018.

The University of Oxford takes home the coveted CIBSE prize.
We are delighted to congratulate our long-standing client, the University of Oxford, on a fantastic double win at last night's 2018 CIBSE Building Performance awards.
The University's ambitious Carbon Management Strategy was the star of the evening – first winning in the Facilities Management Team category, and then rounding off the night with the coveted Building Performance Champion title.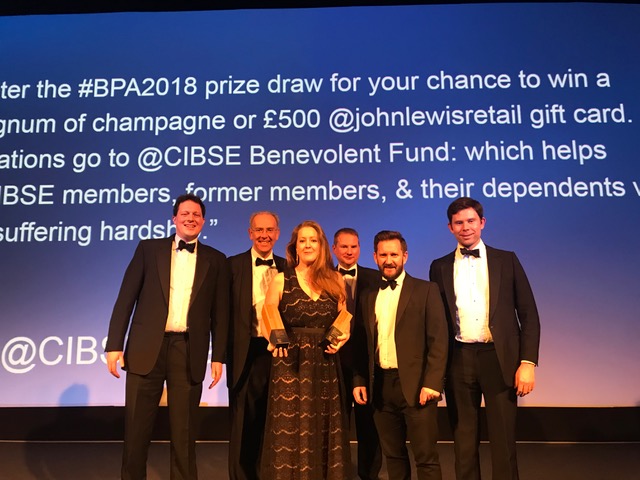 The Carbon Management Strategy has an impressive, and simple, overarching aim: to reduce the University's direct carbon emissions by 33% by 2020 against a 2005/6 baseline.
As consultants to the programme's project team, we have optimised more than 30 of the University of Oxford's buildings, delivering some significant savings.
We are proud to have assisted the University in being recognised for its long-term commitment to energy and carbon management.
Roger Macklin, Associate Director of our Performance group, supported the submission creation. He says:
"Congratulations to the University's team and, in particular, to Lucinda Lay for her leadership of the Carbon Management Strategy – it combines a terrific range of initiatives, from the simple (PV panels) to the esoteric (art installations to encourage interest in carbon reduction). Our firm is honoured to have been able to help with some of these activities."
Ian Durbin, Partner, who led the creation of the mutually supportive relationship between our Performance group and the University of Oxford, explains:
"This is a great example of where we are working with our clients as trusted advisors, and helping them not just to think about carbon reduction, but to roll up our sleeves and actually do it! I am really proud of Lucinda and the wider team for the fantastic results the programme has achieved."
Lucinda Lay, Carbon Reduction Projects Manager, University of Oxford, adds:
"We have made great progress with implementing our Carbon Management Strategy and I'd like to say a big thank you to everyone who made it happen including the Green Impact teams, departmental staff, students, colleagues in Estates Services and all of the contractors involved. We look forward to building on this success!"
Lucinda Lay speaks on behalf of @UniofOxford carbon reduction team after it becomes 2018 @CIBSEAward Building Performance Champion #BPA2018 pic.twitter.com/ZOPfGnVj0w

— CIBSEJournal (@CIBSEJournal) February 7, 2018