Fire safety challenges in co-working design.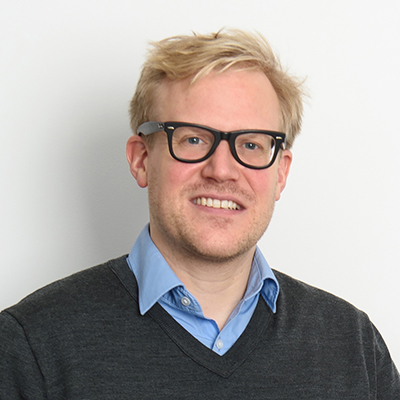 Author:

Karl Wallasch, Technical Director – Fire Engineering
An innovative approach to these unique spaces.
Co-working spaces are a direct response to society's increasingly agile ways of working. Inspiring, unique, and people-focused, they're an exciting addition to the workplace sector. We've previously looked at the key design considerations for these spaces, but here I want to delve further into the fire engineering aspects.
Fire safety challenges.
Fire safety concept plays a key role in all of the overarching co-working design elements – from heath & wellbeing considerations, to the need for customisation and flexibility of the space. Most importantly though, it helps achieve a safe and compliant building that causes minimal impact on architectural vision or management during use.
Here are some particular fire safety challenges that co-working spaces often throw up:
The existing building: Often co-working companies take over parts, or the whole, of existing buildings. Sometimes these buildings are already classified as offices or a change of use is required. Fire strategies for the co-working spaces have to be developed to achieve compliance with the functional requirements of the Building Regulations while also considering constraints due to existing nature of the building, such as geometry, height, listed heritage, materials, stair and exit sizes, etc.
Change-of-use requirements: Co-working brands often choose warehouses or listed heritage buildings as the location for their new space. If a change of use is applicable then all aspects of fire safety need to be considered i.e. means of escape, internal fire spread, external fire spread, firefighting access and facilities. Improvements are also likely to be needed for the existing building to comply with the latest fire safety guidance, even going as far as installing new fire safety systems (for example: automatic fire detection; smoke ventilation to basements, stairs and lobbies; sprinkler provision; and dry riser system). These new fire safety systems may influence the architectural design, as well as increasing plant room space and costs.
Defined purpose groups: While traditional offices were designed for one main purpose, the co-working environment is often made up of many individual or small-scale companies that share common space. There's a demand for flexible meeting rooms, conference and events area, along with social and leisure areas, plus connected café, bar and retail facilities that might be open to members of the public. This means any fire safety concept needs to consider the risk profile of each of these different-purpose spaces and implications on the surrounding use. This is especially true if they are connected to each other e.g. a coffee bar for external visitors that is open to the office's reception.
Higher density of population: The nature of co-working business models requires a high density of working spaces. Traditional guidance requires eight to 10 square metres for every one person but, within co-working spaces, populations of six or even five square metres are often common. In repurposed buildings, the use of fire engineering principles (PD 7974, CIBSE Guide E) through either detailed hand calculations or modern modelling of evacuation and people flow (via existing exits and stairs) can demonstrate the maximum possible number of occupants for entire buildings or individual floors and overall escape times. In some instances, by comparing evacuation times with fire and smoke simulations (which indicate the time it takes for conditions to become untenable), a margin of safety can be established.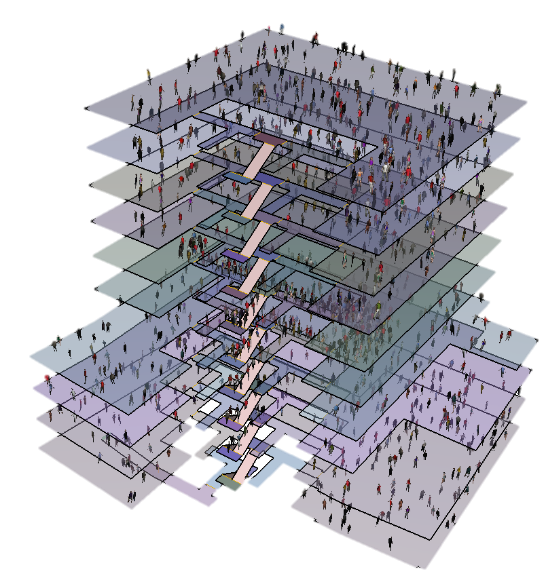 Example of 4D evacuation modelling in an office building, using Pathfinder software.
Use of new materials and pushing boundaries for interiors: To create a vibrant, modern co-working environment, or to assert the brand identity of companies using the space, new interior materials are likely to be proposed. It's essential to fully understand the fire performance and classification of each of these materials. A fire strategy concept developed for a base build may need further development to consider such fit-out specifics.
A welcoming reception area: Large open receptions form a key part of most co-working spaces' architectural vision. However, although they are the main entrance point to the building, they often can't be part of the protected and sterile means of escape route. Additional means of escape corridors may be required, connecting protected stairs directly with the outside. The same may be applicable for dedicated firefighting access routes that allow firefighters access to firefighting shafts directly from the outside.
These are just some of the trends in co-working office developments that could result in challenges for fire safety engineers (Read more here). Often, current fire safety guidance may not fully address these challenges. However, modern fire-engineering techniques can be used as an alternative approach.
A fire engineering approach enables a better and more detailed understanding of design options, risks, and future flexibility in unique building situations.
Ultimately, it means life safety, property protection, business continuity, and brand protection requirements can be fully considered and successfully delivered to allow unique and exciting co-working spaces.