Capturing a culture: an audiovisual homage to Brixton.

Immerse yourself in a unique installation by Gestalt this weekend.
In a small corner of Brixton, you might be surprised to find London's last working windmill. Normally a local community hub, this weekend it is being transformed into an immersive art installation for the public.
It features as part of this year's London Design Festival and the smaller spin-off, Brixton Design Trail. A free event, it will explore the traditional, contemporary and diverse culture of Brixton by filling the four floors of the windmill with musical compositions, recordings, and visuals.
Ahead of tomorrow's launch to the public, the project's composers Joel Wells and Abi Wade, and our audiovisual engineer Kev Luckhurst, sat down to share what it takes to bring such a unique installation together.
Firstly, how did you all meet?
K: Appropriately, Joel and I met through music – we used to go to gigs together during our college days.
J: Yeah, we were the only guys in Maidstone who liked hip-hop!
K: I'm also working with Abi and Joel on some other projects that we're doing as an Audiovisual team at Hoare Lea. As composers, they can help to create bespoke content for the sound systems we design, and form part of our growing network of creative groups and artists.
Abi and Joel, this Brixton Windmill project is part of a series of installations you're doing across London that will be produced under the name Gestalt; what's that all about?
A: Gestalt essentially means "an organised whole that's more than the sum of its parts", so it's about collaborating with other creatives to experiment and incorporate visual arts into our work.
J: We were also really keen to broaden our network to keep things fun and fresh. Adding in new people to the mix takes you in directions you wouldn't expect. It was about not just engaging other people but also ourselves.
A: We wanted to actually get out to places and take recordings, creating work that's both inspired by and grounded in a sense of place. New technologies are popping up all the time, so we felt it was important to utilise them in a new environment.
What attracted you to beginning the series with this Brixton Windmill installation?
J: It's so unusual to see a 200-year-old structure like this in the centre of Brixton, so immediately it was a unique viewpoint to explore Brixton from.
A: Yeah, we interviewed lots of people to ask them what the windmill meant to them. It's the last working windmill in London, producing its own flour for locals to buy, and acting as a community hub, so it really is viewed as the heart and soul of the area. We were immediately drawn to the idea of using the space.
J: There's also a lovely symbolism to it in terms of the turning of time that relates to what we were exploring with our installation piece.
So what can people expect from the experience?
J: The four floors of the mill work loosely as a narrative timeline, moving you through the social and cultural 'moments' of Brixton. The first floor allows you to experience the history of the building as a working windmill, and then you ascend to the second floor where we've tried to capture the hopefulness of the generation who came across during the Windrush era. We move upwards again into Brixton's more tumultuous times and culture clashes, exploring the pros and cons of the gentrification and evolving nature of the area. And finally the top floor is a total celebration of its youth culture, and its influence on music and the arts in general.
A: The top floor really is a kind of 'vibrant summit' of Brixton. Every single person we interviewed mentioned the word colourful when talking about the area – so it was vital we captured that. It's quite intense to try and curate 200 years of Brixton life in all its forms, but I like the idea that people can move up and down the floors at whatever speed, or even order, they choose.
How did you begin to bring all the elements of such a fluid and, presumably, ever-evolving project together?
A: It was the first time we'd ever curated a multi-channel audiovisual project like this before – and there's definitely a less glamorous side, in terms of risk assessments and logistics etc!
J: Yes, even something as simple as trying to get everyone in the same place at the same is no small task! We had to get that balance of regularly jumping from being creative to being the pragmatic organisers.
A: But it's all part of the excitement. I'm actually most looking forward to the day before we open to the public as we'll essentially be bringing the whole thing together in one day.
K: Yeah, we've got one day to make it all work! In my experience of multi-channel systems like those we'll be using, there's a lot of scope once you get to the site and see how it actually all works in the space. One of the tricky parts is going from the initial idea of having lots of different audio elements, and then actually deciding on how you route each part to the various channels of the sound system. It can be more of a challenge than expected. So we'll be helping with the actual physical installation. We'll get the composition running and then play around with different loudspeaker locations and orientations. It's about getting the most out of what Abi and Joel and the rest of the team have created, and a lot of that has to be done on site. You can't go from working on a studio to a four-floor windmill without adapting the soundscape to what works best in the space. It's still fluid until those final moments.
A: I'm really excited about the way the sound is going to blend together through the floorboard gaps between floors; it's going to be interesting.
J: It's one thing making the composition, but getting all the different audio stems and systems to work together harmoniously in an environment requires a whole new set of skills, so having Kev's experience is going to be a massive help.
What do you hope people take away from the experience?
J: I really want everyone to experience a strong sense of place. Other than that, we understand that people's emotional responses are always personal to them, so we've tried to keep the whole piece reasonably abstract.
A: Yeah, we've intentionally left it open to interpretation and personal response. Our main aim was to bring together the area's incredible wealth and vibrancy, suspending it in a space for just a brief moment in time. There's been a lot of research into the importance that sound has on our memories, and if we can both evoke old and inspire new memories for people, we'll hopefully have honoured the rich heritage of Brixton in an honest way.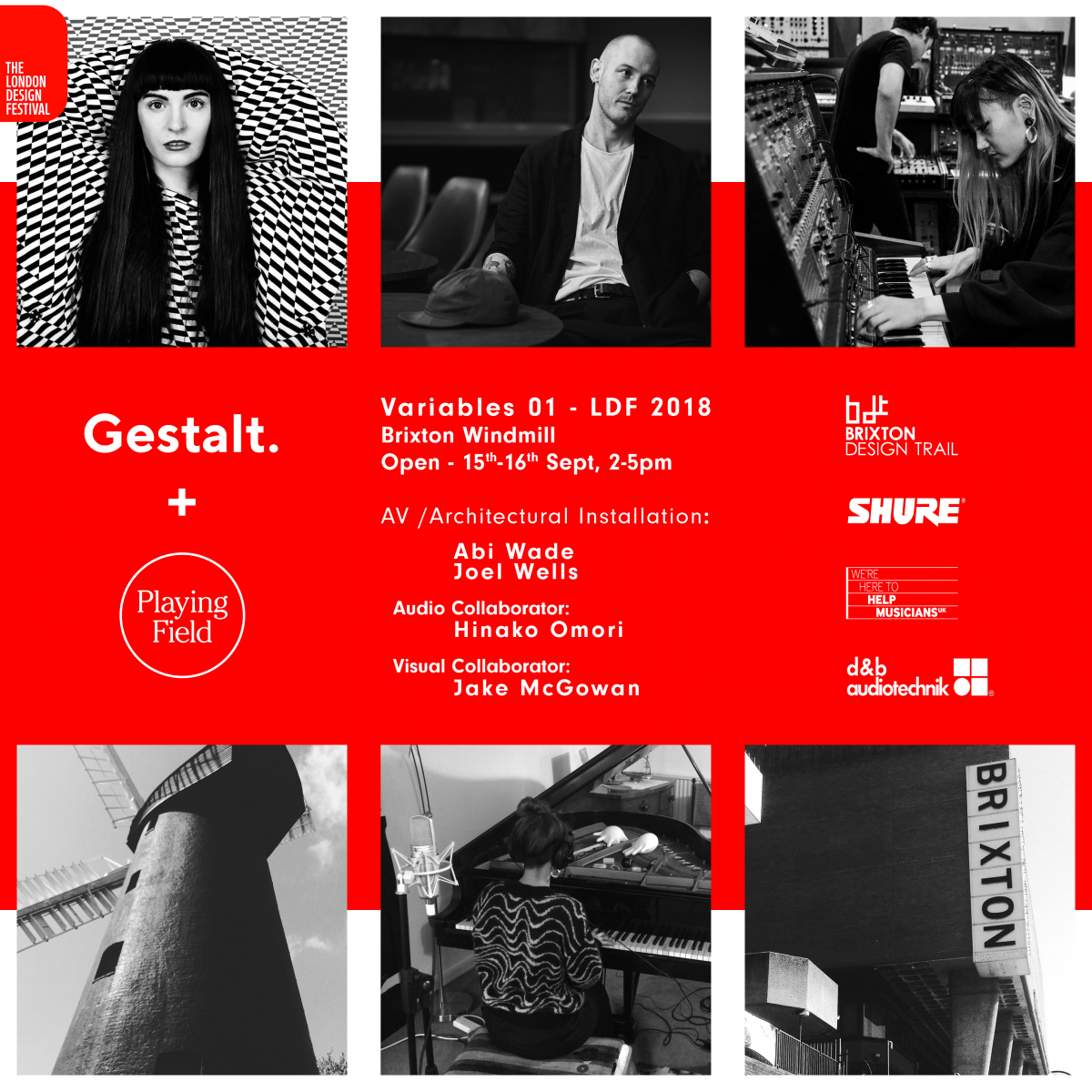 Check it out.
When: 2pm-5pm, Sat 15 – Sun 16 Sept Where: Windmill Gardens, West end of Blenheim Gardens, Off Brixton Hill, London, SW2 5EU
Find out more:
www.londondesignfestival.com/event/variable-01-audio-visual-architectural-installation
www.composition.com/gestalt
www.brixtonwindmill.org
Collaborators: Hinako Omari – pianist, Jake McGowan – director, Playing Field, Friends of Brixton Windmill, Karl Sadler – Obelisk Music
Supported by: D&B Audio Technik, Shure Microphones, Art Space Brixton, Help Musicians, Brixton Design Trail, London Design Festival