Double award win for Victoria Gate, Leeds.

Victoria Gate Leeds has been recognised as both 'Best New Building' at the Leeds Architecture Awards 2017 and 'Best Shopping Centre' at the MIPIM Awards 2017.
The multi-award-winning project, with 32 retail and restaurant units, a super casino, and flagship John Lewis store, is the largest premium retail and leisure venue in northern England. It is a truly high-end luxury shopping destination. The design blends elements of old with the more contemporary: it has an ornamental roof, curved shop fronts, and glazed black design consistent with the classic look of the Grade II listed Victoria Quarter, which houses other luxury brands.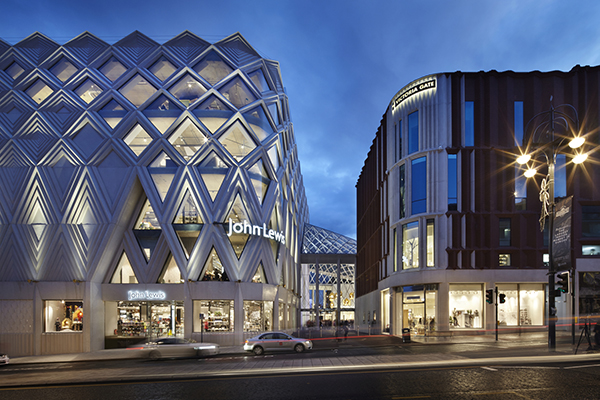 One of our challenges on this exciting and complex project was to deliver a super high-quality interior space that required no heating or cooling installations, while ensuring occupation was viable throughout the year. This challenge was coupled with a requirement to naturally ventilate under fire conditions.
The shopping centre is inspired by Leed's textile manufacturing tradition.
The environmental solution to the premium arcade space required extensive engagement with our building physics experts, performing detailed computational modelling to demonstrate to both the development and letting teams within Hammerson that the internal arcade environment would be appropriate for commercial occupation in prevailing weather conditions.
The careful specification of glazing, selective operation of actuated roof lights, and management of door openings have resulted in a highly efficient arcade, presenting significant operational benefits to the client and tenants alike, particularly in minimising service-charge elements to tenants.
Our roles on the project included MEP, sustainability, vertical transport, BREEAM, fire engineering, building physics, specialist lighting design, Part L strategy, engineering systems acoustics, and smoke modelling.