Our people: Frances Brown.

Fascinated by workplace.
Frances joined our London office as a graduate in 2006. Now an Associate, she works as a Team Leader on major workplace projects. For the past two years she has been part of the London judging panel for the British Council for Offices (BCO) awards and was recently voted onto the board of management.
I was attracted to engineering because…
…I was interested in design, and was good a maths and science. I saw engineering design as my way of having an impact on the world and liked the idea of having something to show for my work.
My most challenging project was…
…the S5 and S6 buildings at the International Quarter London. They had a signature architect and were challenging due to their size and the new level of responsibility I had. I learned so much about designing base-build developer spec workplaces and managing a project in BIM. These projects kickstarted my urge to specialise in workplace, and increased my fascination for making offices more effective for people and businesses.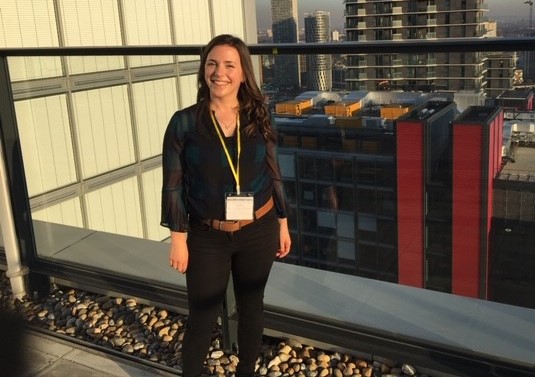 Here I am stood on the roof of Building S5 in the International Quarter, with the roof of Building S6 in the background. It's great to go back and visit completed projects and reflect!
I got involved with the BCO…
…back in 2011 during the recession, when I just felt I needed a greater connection with the industry to keep up my enthusiasm while times were tough. I joined as a 'next gen' member and enjoyed visiting completed projects and meeting other professionals. On my return from my second maternity leave I got the opportunity to join the London judging panel. As a group of seven judges, we review all the submissions for the London region, visit the buildings on the shortlist, score them and agree on a winner in each category. In my time as a judge I have reviewed 133 submissions and visited 71 buildings.
Being a BCO judge has spurred me on to improve how we as engineers and members of design teams can help people and organisations to realise their workplace ambitions.
It's great to explore projects that I haven't been involved in and find out about the ideas behind them. It reminds me that we are part of a bigger industry outside of our day jobs. I also like the idea that thousands of people are interacting with the spaces we create every day and that we can impact on their quality of life as well as help businesses become more successful.
My other role at the BCO is…
…as a member of the board of management. I was voted into this position by the members and hope to be able to make a positive contribution to the organisation. When I started out in construction I knew that I wanted to have a role in the industry and my aim is to make the BCO accessible and welcoming to a broad range of people.
For me, it's about enabling as many views and experiences to be represented so that it can take the lead on workplace best practice during this period of change and into the future.
Workplace is a sector that is facing many new challenges at the moment and I really think that this generation of designers and occupiers are laying the foundations for highly effective but completely different workplaces in the future.
Outside of work I spend most of my time…
…raising my two children, who are aged 3 and 6, as well as doing some Pilates and running. Before my kids came along, I used to spend my spare time painting and playing music! However, I recently started playing the Oboe again which I love!